2012 Volvo XC60 Introduction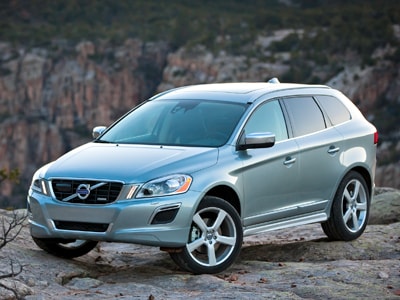 The Volvo XC60 is the smallest of the Volvo crossover family, which includes the XC70 and XC90. A compact SUV about the size of a Honda CR-V, the Volvo XC60 competes favorably with the Acura MDX, Audi Q5, BMW X3, and Mercedes-Benz GLK.
The 2012 Volvo XC60 R-Design gets boosted by Volvo's high-performance partner, Polestar, raising horsepower and torque through software. Otherwise, the XC60 carries over to the 2012 model year unchanged. XC60 was launched as a 2010 model. For 2011, the R-Design model was added.
The XC60 seats four quite comfortably, five with a bit of coziness, and it offers more cargo space than nearly all its competitors. The XC60 looks like a smaller version of the XC90, and it doesn't shout family-mobile.
The standard 3.2-liter six-cylinder engine easily meets the demands of daily driving, offering 240 horsepower and an EPA-estimated 19/25 mpg City/Highway with front-wheel drive.
For those who value quick acceleration, a 325-horsepower turbocharged engine is available that adds excitement and thrill. For 2012, the new XC60 Polestar offers an increase of 25 horsepower and 29 foot-pounds of torque. We tested the Polestar XC60, and it's hot. It's rated 17/23 mpg with all-wheel drive.
The XC60 is not the sportiest among the compact SUVs, but we found it handles well on city streets and highways. We ran it hard on curvy remote roads in Arizona, and it responded well. It's easy to park, particularly with the optional rearview camera. The XC60 rides comfortably, its brakes are superb, and its 6-speed automatic transmission is well tuned.
Volvo's fulltime all-wheel-drive system works smoothly in the daily grind without a huge penalty in fuel economy (18/24 mpg), and it's truly welcome when the weather gets foul or on gravel or even in bumpy corners. Yet buyers who don't really need all-wheel-drive capability can choose an XC60 with front-wheel drive (19/25 mpg).
With all-wheel drive and 9.1 inches of ground clearance, the Volvo XC60 offers as much off-highway capability as most sport-utility buyers will ever need. It can handle backcountry trails, and the computer-managed Hill Descent Control makes creeping down steep inclines secure. The XC60 can tow 3300 pounds: a trailer full of snowmobiles or a small boat.
Inside, the Volvo XC60 is attractively finished and pleasingly understated. Its knobs and buttons are easy to use, which you can't say about many of the XC60's competitors. The seating arrangement is flexible, and the cargo compartment has tie-downs and other useful accessories. It offers nearly all the features you'd expect in a luxury vehicle, including heated rear seats, rear-seat video and superb surround audio.
Volvo devotes significant resources to research aimed at improving occupant protection, and its reputation for safety engineering is deserved. The XC60 offers the full array of active and passive safety features, including standard City Safety. This braking package is programmed to stop the car independent of the driver when it senses an impending encounter with a car in front at speeds up to 18 miles per hour, mitigating crash impact or avoiding a rear-ender altogether. The XC60 is available with a full array of blind-spot, lane-departure and driver alertness warning systems.
For those who want flexibility in cargo and people hauling without the bulk of a big SUV, the XC60 makes a lot of sense. Plus, the XC60 offers the safety engineering of a Volvo.