2012 Volvo XC70 Summary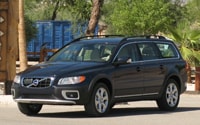 The Volvo XC70 is an excellent choice for outdoor adventurers. It offers genuine off-pavement capability and it's very good on unpaved roads. It has lots of room for gear and the cargo compartment is perfectly flat. It offers many advantages over truck-based SUVs, including better fuel economy, better handling, better ride. Yet it's quiet, maneuverable and pleasant for the sort of driving most of us do most of the time.
J.P. Vettraino reported from Germany, with Mitch McCullough reporting from Montana, and Sam Moses reporting from Arizona.