2013 Acura ILX Walk Around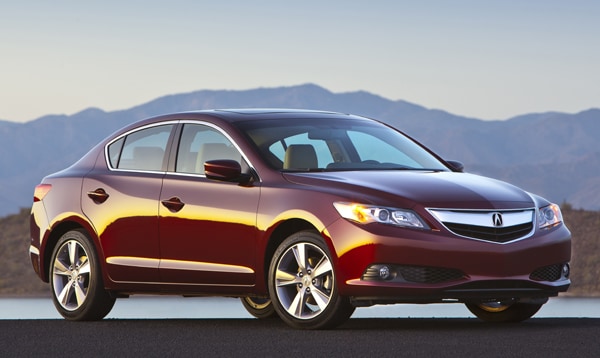 The Acura ILX looks like an Acura. As noted, there is no sheetmetal commonality between the ILX and the Civic. The Acura design team did a good job of giving the ILX a divisional family look, not vastly different from the TSX albeit with a little more sculpting in the front end and a little more surface variation along the side panels. The beaky chrome strip that tops the main grille opening is familiar, and Acura has diminished the size and serpent's tooth appearance that has marred other recent offerings.
Overall, the look is subdued. There's too much front overhang and not enough at the rear, making the proportions seem awkward when viewed from the side. But the design is otherwise quietly conservative and inoffensive, though it remains to be seen whether it will measure up to target market research. Acura's goal for the ILX is to attract Gen Y buyers, professionals in their early to mid-20s, and the sum of the research indicates that these prospects prioritize value and cool styling. Whether the ILX is perceived as cool will be in the eyes of the beholders.
Interior
Inside, the Acura ILX contains nothing that's likely to remind anyone of the Honda Civic. Materials are high quality, the dashboard design has a distinct Acura flavor, strongly reminiscent, in particular, of the layout in the TSX. While many carmakers are moving to touch-screen controls, a variety of buttons and knobs govern many of the secondary controls in the ILX's center stack, with a good many duplicates appended to the steering wheel hub.
The front seats are moderately supportive (no one will confuse them with something from a BMW), but comfortable, and adjustable enough to fit a wide range of body types and physical dimensions. That, plus a tilt/telescope steering column ensures a good driving position.
The seats are clad with cloth in the basic car, but leather is available as part of the Premium Package, which also includes heated front seats, power adjustability for the driver seat, rearview camera, active sound cancellation, and a seven-speaker 360-watt premium audio system with a USB port, Bluetooth audio, Pandora internet radio interface, SMS text messaging.
The navigation system, which is baked into the Technology Package, includes voice recognition, real-time traffic info, real-time weather, and a satellite communications function that will keep track of your appointments. Other elements of the package include the upgrade audio features that are also part of the Premium Package.