2013 Acura RDX Introduction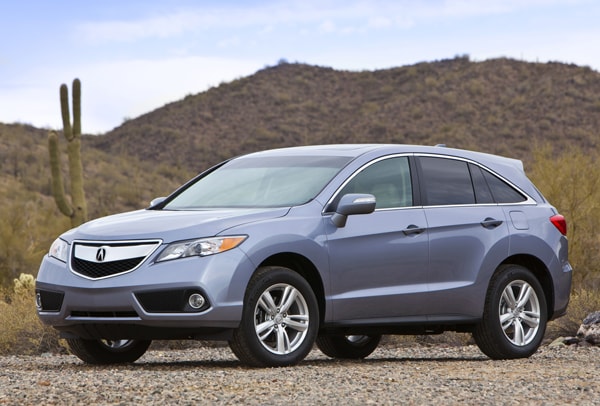 The 2013 Acura RDX introduces the second generation of Acura's smallest SUV. RDX is all-new for 2013, a little bit bigger and heavier than before, while being considerably more powerful, nearly as nimble, and significantly more fuel-efficient. It's a win-win-win deal.
The 2013 Acura RDX features a new 3.5-liter V6 engine making 273 horsepower (up from 240), and a 6-speed manual automatic transmission (up from a 5-speed), both so smooth they feel flawless. Fuel mileage is an EPA-rated 20/28 mpg City/Highway, for an EPA Combined 23 miles per gallon with front-wheel drive.
A new all-wheel-drive system is available, simpler and lighter than Acura's SH-AWD in other models, designed for fuel mileage. In about 400 miles of driving in our RDX AWD, mostly at 72 mph on the freeway but with some hilly city runs, we averaged 21.6 mpg. The EPA rates the 2013 RDX AWD at 19/27 mpg.
The sheetmetal has been reshaped for 2013 to be sleek and aerodynamic, looking more like the larger Acura MDX. The hood is longer and sculpted than before, the grille tidier, sides cleaner, and roofline way more elegant. The wheelbase is 1.4 inches longer and the track widened a bit, and handling remains taut and precise. The center of gravity is lower despite the roof being 1 inch higher, and there's electronic power steering replacing hydraulic.
The suspension has been thoroughly redesigned on the 2013 RDX, with 18-inch wheels standard. Acura engineers in Japan worked hard to make the 2013 RDX ride and handle well, and it does, maybe even better than the smaller and sportier 2012 RDX. The steering technology breaks new ground, with what Acura calls Motion Adaptive Electric Power Steering, which goes to the next step beyond speed-sensitive power steering, by increasing or reducing the amount of effort needed to turn the wheel in either direction, based on the same sort of traction measurements that stability-control sensors receive; by instantaneously weighting the steering wheel, it makes it harder for the driver to over-correct.
The suspension also features something called Amplitude Reactive Dampers, sophisticated shock absorbers designed to offer the best of all worlds. They got most of the worlds, but the dampers transmitted too many sharp bumps to our spine. These things can be tuned out, so it's possible that this flaw might vanish in later 2013s, you never know.
The new interior has sweeping lines and uses rich materials. It's very quiet in the cabin; over harsh freeway surfaces in particular, you can't hear the tire buzz thanks to more sound-deadening materials. The door openings are large, and the rear seats fold down with one touch. Leather is standard, along with heated front seats, power moonroof, 360-watt audio system, and rearview camera. A Technology Package has all the tricks, including a power liftgate and HID headlamps.
Competitors for the Acura RDX include the BMW X3 and Mercedes-Benz GLK.