2013 Audi A4 Introduction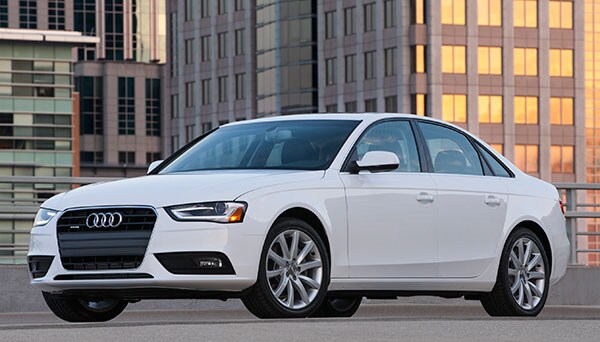 The 2013 Audi A4 and S4, last redesigned for 2009, have been freshened on the outside and refined on the inside. Mechanically, the only significant change to the standard model is that it now has electric power steering, a year or two behind many other carmakers. Possibly the biggest change is what isn't here: the A4 Avant wagon is discontinued, replaced by an all-new allroad model for 2013.
The Audi A4 is a premium compact sedan with a brilliant venerable 2.0-liter turbocharged engine, smooth ride, and classy interior, including standard leather upholstery, automatic climate control, and available features found on larger luxury cars. Front-wheel drive with a CVT transmission is standard, while quattro all-wheel-drive with a Tiptronic 8-speed automatic transmission is available.
2013 Audi A4 competitors include the BMW 3 Series, Mercedes-Benz C-Class, Lexus IS, Acura ILX, Infiniti G, Cadillac ATS, Buick Regal and Hyundai Sonata. The S4 occupies something of a niche, as many of its competitors are either dated or more expensive. The A4 does well against its competition in the areas of fuel economy and passenger room, and is superior in all-weather capability.
The 2013 A4 and S4 get a streamlined version of the MMI Navigation system and controls, reducing the number of buttons from eight to four, and the three-zone climate control system has been slightly simplified.
The A4 styling is clean but not dynamic. The 2013 A4 gets a new grille that's more angled in the upper corners, dynamic new hood lines, new bumpers with angular air inlets, and sleek headlamps with LED daytime running lights. Optional lighting includes halogen cornering lamps added to the adaptive system, and LED taillights. New wheel designs, from 17 to 19 inches, are also available.
The 2013 Audi S4 gets the same updates as the 2013 A4, including new headlights, a new front fascia, a new rear trunklid/spoiler. The 2013 S4 gets the same interior upgrades as well.
The cabin features a lot of controls, all easy to reach. The seats are excellent, with Nappa leather standard. New trim on the dash for 2013 includes more chrome than before, with inlays in aluminum, walnut, ash, or oak. It's unlikely you'll find a more appealing interior at the A4's base price.
The rear seat offers 35.2 inches of legroom, about average against its competition: same as the BMW 3 Series. Trunk space is 12.4 cubic feet, about the same as the 3 Series.
On the road, smooth or bumpy, the A4 is solid, firm and stable. It's easy and enjoyable to drive, and rides like a larger car.
The A4 quattro is very adept in snow and rain, at the top of its class of models with all-wheel drive, where it performs favorably against the BMW 328iX, Mercedes-Benz C300 4Matic, and Lexus IS250 AWD. Audi has been at the all-wheel drive game longer than them and has a winning rallying heritage, racing over unpaved roads. With front-wheel drive, the A4's cornering is not as precise as a rear-wheel-drive BMW 3 Series.
Audi's 2.0-liter turbocharged engine is silky smooth and the torque range is exceptionally broad, so there's responsive acceleration at any time. All A4s come with this engine.
The Tiptronic 8-speed automatic is a brilliant transmission, fast-shifting and obedient, with rev-matching downshifting. Opting for the 6-speed manual gearbox, however, turns an A4 quattro into a sporty sedan. Shifting is precise and pleasurable, the clutch is easy, and the redline is way up there at about 6500 rpm. We loved it.
The high-performance Audi S4 features a 333-horsepower supercharged V6, quattro all-wheel drive, and sport suspension. The S4 looks different than the A4, with its own grille, along with a front splitter, rear diffuser, and unique exhaust. It's got a special interior, including well-bolstered seats in Alcantara leather with contrast stitching. New interior options for 2013 include a flat-bottomed three-spoke steering wheel, high-gloss piano black trim with stainless steel mesh inlays, and Nappa leather.