2013 Audi A5 Driving Impressions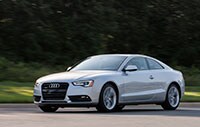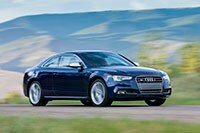 One standout strength of the Audi A5 is smoothness at speed, up there around 80 mph. And the overachieving engine, a 2.0-liter turbo making 211 horsepower, feels fastest from 50 to 70, exactly where you need it. It produces strong torque over a wide range from 1500 to 4200 rpm, to propel the car from intersections and up hills. It accelerates from 0 to 60 in 6.5 seconds. Occasionally around town, you hear the engine growl-moan like the four-banger it is, but the rest of the time you never know it.
We spent most of our week's seat time in an A5 Cabriolet with the top down in the Pacific Northwest, plus more time in an S5 in the Colorado mountains.
The manual wind deflector in the Cabriolet works well. Girlfriend was able to take her hoody down on a September day, when the wind deflector went up. Carry it around in the trunk in its zippered bag, it doesn't take up that much space; or leave it home if you don't use it.
In about 450 miles of freeway, around-town, and backroads, our A5 Cabriolet with 8-speed Tiptronic automatic averaged 23.8 miles per gallon. It got us 27 mpg with the cruise control set at 73 mpg, over some long hills. The EPA rates it at 25 mpg Combined city and highway.
We took our A5 Cabriolet up and down fast winding mountain roads, and it always gave us what we needed driving hard. The Tiptronic 8-speed transmission is as tight as an automatic gets. In a good set of curves you use 3rd gear a lot, with frequent dips to 2nd and sometimes even 1st, plus charges up to 4th. (Seventh and 8th gears are for freeway cruising, improving fuel mileage by lowering the rpm.) It took those shifts perfectly, including aggressive downshifts that some transmissions reject.
With no paddle shifters, we used the unfortunately fat shift lever that's also flawed. The gate for manual mode, sliding the lever forward and back, is on the far side, so your arm has to stretch. The ergonomics of the design aren't driver-oriented, and that seems unlike Audi. We asked Audi why, and they basically said: We know it sucks, the best thing is to just spend the extra $750 and buy the Sport Package with available paddle shifters, sport seats and lowered sport suspension.
The chassis and suspension stand out, like the smoothness of the engine. Such a nice package, difficult to achieve, but Audi's been at it for years. It's perfectly comfortable around town on patchy pavement, while being totally capable on winding roads. It's responsive and firm, pushed to the reasonable limit. Quattro all-wheel drive helps this sure-footedness. With quattro, 60 percent of the drive goes to the rear wheels and 40 percent to the front (until a wheel starts slipping). That 60/40 rear/front is a good dynamic, achieving both balance and grip. Quattro also locks the differential, for best low-speed traction.
At the highest level, the available Drive Select system with dynamic steering and variable damping that calculates shock rates 1000 times/second gives the widest spectrum of ride and handling.
When you bring the 333-hp, 3.0-liter supercharged V6 into the Audi S5, you've got a machine. Audi is hammering the competition with good engines. Not that BMW's 315-hp, 3.0-liter turbocharged inline-6, or Ford's 365-hp, 3.5-liter twin-turbo V6 (and others) aren't exceptional.
The S5 is another animal altogether. The supercharged V6 is mated to a standard 6-speed manual transmission or available 7-speed S tronic twin-clutch transmission, which uses dual input shafts and dual clutch packs to execute computer-controlled gear changes in just .2 seconds.
The S5's supercharged V6 is fueled by direct injection and breathes through a two-stage intake manifold. It's got big brakes, sticky 19-inch tires, and an optional active rear differential overdrives the outside rear tire in corners, forcing the front end to turn in more quickly. It also communicates with the vehicle's Drive Select system and stability control to help maintain control in emergency maneuvers.
The A5/S5 was the first recent Audi in which the front differential is mounted between the engine and the transmission, taking some weight off the front wheels, and better balancing the weight. But because the S5 weighs nearly 4000 pounds, it's no Porsche. The ride is never punishing, but models with adjustable suspension offer a bit more compliance over rough pavement.
The RS5 leaps from 354 to 450 horsepower for 2013, using valve technology from Audi's 5.2-liter V10. With a strong new differential, it's still all-wheel drive. It uses a paddle-shifting twin-clutch 7-speed transmission. Ironically, the flexible 4.2-liter V8 used to make 450 horsepower back in 2008 when it was the RS4. This powerplant has a special feeling, almost like a Japanese sport bike, but its sound is gloriously beefy. When it comes on the cam at more than 5000 rpm you want to shout in excitement. It will accelerate from 0 to 60 in 4.5 seconds (notice that's only .4 quicker than the S5 with the V6 engine), and its top speed is 174 miles per hour, limited by electronics if not your courage and/or sanity.