2013 Audi A6 Walk Around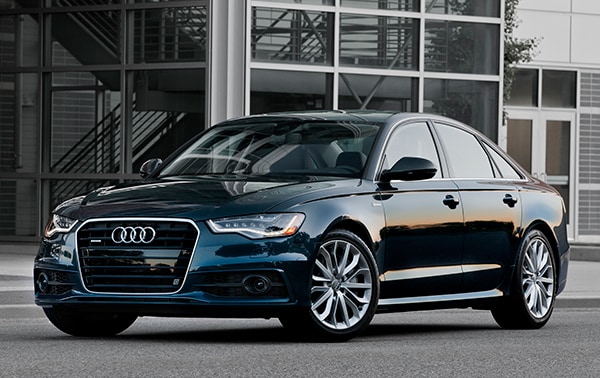 Audi A6 was completely redesigned for the 2012 model year.
We think the A6 has a beautiful face. We've grown used to Audi's big grilles, which some have likened to the mouth of a largemouth bass. Others have since copied it. On A6 models, the grille slats are black with a chrome surround. On the S6, it's chrome all the way. The S6 also has fog lights integrated into the lower air intakes.
Execution of the shapely aluminum hood is excellent, with horizontal air intakes and wraparound headlamps that are long, sleek and sharp. Its shoulders are like a racecar, with aluminum front fenders. Although taller, the roofline is still sleek with its cool little sharkfin antenna.
In the rear, wide tail lamps stretch across the back and stop squarely at the corners (in contrast to many vehicles now, whose lenses often wrap around far into the rear quarter panels). An integrated rear decklid spoiler looks like a little upturned tail. Quad exhaust pipes on the S6 look like they mean business without looking too flamboyant.
Interior
The A6 interior exudes style and class. One arc flows gracefully into the next, on the dash and door panels, from vents to grab handles. Fit and finish is superb, as is the materials quality. On the 3.0T, the wood is walnut, the trim brushed aluminum.
The leather used for the seats is beautiful, but grainy enough to feel, especially sliding in and out. On a five-hour interstate run from Seattle to Portland, we couldn't find pressure points that felt perfect with the standard 8-way power heated seats with lumbar. We all have different tastes and shapes and even moods, which is the hard thing about critiquing seat comfort.
The S6 is another matter. It uses upgraded, Valcona leather, with the same gorgeous diamond stitching found on other S models. Seats are adjustable 12 ways, which provides a wider range of configurability.
The lovely tachometer and speedometer, with clean numbers and needles in organic white light, are the best. The information from needle-on-numbers goes straight to your brain, without the distraction of a fancy face on a gauge.
Between the tach and speedo there's a big space for stacks of digital information; instead of having to scroll through one report at a time, the A6 shows you three or four, including distance to empty (how far you can go before running out of gas). You can also view the navigation illustrations, a safe place to put that information because your eyes don't have to travel. Cars equipped with navigation use Google Earth, which is fun to watch, but it's so highly detailed it can be tough to know where you are at a glance.
A 7-inch color display, hidden when the car is off, pops out of the dash when the car is turned on. Audi's MMI, or Multi Media Interface, works similarly to the systems used both by BMW and Mercedes-Benz. It's controlled by a circular knob surrounded by four buttons. Different drivers have different preferences, but we find this setup less distracting than a touch screen, because you don't have to reach out and lean forward to hit a button. And the screen won't get filled with fingerprints.
If pointing and clicking is too tedious, you can also spell out your navigation requests on a tablet-like space with your fingertip. We were surprised by how well it read scribbling while driving. In theory it's slower than using voice, but we found the voice recognition system unreliable, so for us it was faster just to write.
Cars equipped with the Audi Connect system, which uses a 3G connection to turn the car into a wireless hotspot, can support up to eight WiFi-enabled devices such as phones, iPads or laptops.
Cargo space measures a relatively small 14.1 cubic feet, but standard split-folding rear seats and a pass-through help to create more room when needed.