2013 BMW 3 Series Summary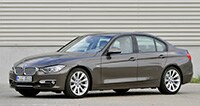 The BMW 3 Series sedan remains the benchmark in its class. Sedans improve on the previous generation in every way. The 3 Series coupes and convertibles still look and perform great but are at the end of their lifespan; we recommend waiting for the all-new versions that will be introduced shortly. The ActiveHybrid3 offers lower emissions and better fuel economy, but it's expensive.
NewCarTestDrive.com editor Mitch McCullough filed this report from Monterey, California, with Laura Burstein reporting from Los Angeles.