2013 BMW 5 Series Driving Impressions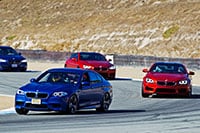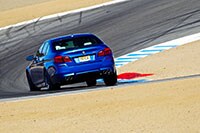 The BMW 528i, 535i and 550i are all highly competent and balanced, with exceptional poise and pace. The BMW 550i, with its V8 engine, is the most nose heavy, with a 52.5/47.5 percent front-rear weight distribution; the 535i with its I6 comes in at 50.9/49.1 percent; and the 528i scores 49.4/50.6 percent with its lighter engine. So it's no surprise that the 528i handles the best.
We found the BMW 535i and 550i to be controllable at high levels of acceleration, stopping and cornering on the race track. They will provide responsive performance in accident avoidance maneuvers. But the BMW 528i displayed exemplary quickness and agility, which was also noticeable on the street.
What does maximum driving performance have to do with day-to-day driving? A lot. Any true emergency maneuver in normal traffic demands near maximal use of a car's balance and grip.
These BMWs use a superb 8-speed automatic transmission. Because the top two gears are overdrives, keeping freeway revs down, the fuel mileage is helped. Also, the aluminum doors, hood, front side panels and suspension components keep weight down.
Fuel economy for the BMW 528i is 23/34 mpg City/Highway, according to the EPA, and that's better than the ActiveHybrid 5, at 23/30 mpg. The BMW 535i scores 19/28 mpg City/Highway, while the BMW 550i is rated 15/22 mpg.
The 5 Series use BMW's auto stop/start system, which stops the engine when the car is not in motion, conserving fuel and stopping all emissions. BMW's system is not smooth. At each restart, the cars shudder, and there are other occasions of intrusion and annoyance. The Mercedes system works much more smoothly. You can defeat the BMW stop/start system, but you must do so by pressing a switch each time you get in and start the car, because it defaults to on. Stop/start is an idea with good intentions and potential, but apparently it exists mostly to make the U.S. federal government happy: automakers get EPA credits toward future CAFE standards by including the feature.
Zero-to-60 acceleration performance for the 550i, 535i, and 528i are, respectively, 5.0 seconds, 5.7 seconds, and 6.2 seconds. The ActiveHybrid 5 matches the 535i's 0-60 time. While the 550i is the obvious choice for real speed, the 528i's strong handling, fine fuel mileage, and good acceleration will attract many, including us.
Much as we admired the new 8-speed transmission's quick shifts and energy efficiency, its shifter is needlessly iconoclastic. It has a P button on top for Park and an unlock button on the left side. To get out of Park, you depress the unlock button and move the shifter forward or backward for Reverse or Drive. Sounds simple enough. You can only go from Drive to Reverse, and vice versa, by first pressing the unlock button. If you move the shifter left, you get manual selection of the eight gears. To return to Park, you press Park on the top of the lever. It takes a bit of training and a goodly number of false starts. BMW believes it's important for you to do things their way, even when there is nothing about it that is superior to a conventional PRNDL auto-shifter. If you're James Bond running from the bad guys and jump into your BMW, they'll probably catch up to you while you're sitting there looking at the shifter to make sure you select the proper gear. On the plus side, the manually selected 8-speed did its best to give us the shift we wanted when underway.
The steering on the 5 Series cars is electronic, variable ratio and feels seamless and precise. Breaking with BMW practice, the front suspension eschews struts in favor of multi-link arms.
To heighten controllability and give the driver an improved platform, available dynamic damping control constantly adjusts shock rates to match the current road surface. The system is so fast that when a front wheel hits a pothole at highway speed, the rear shock absorber will be prepared for it before the pothole arrives. In addition, active roll stabilization curtails body roll in hard cornering, giving the driver heightened command. BMW's advanced electronics work well.
All-wheel drive is available for all 5 Series versions.
The latest BMW brake system interacts with the other electronic stability control systems, pre-setting the brakes in heavy braking, drying the brakes in wet driving, and compensating for brake fade in vigorous driving. The brakes also have a hybrid-like regenerative-energy feature; they capture electric energy generated during braking and send electricity to the battery. This reduces the net amount of time that the engine must drive the alternator producing charge. This cuts the amount of time the engine must drive the alternator belt, heightening fuel efficiency.
BMW boasts that its ActiveHybrid 5 is the first time a turbocharged inline-6 has been combined with an electric engine and an 8-speed automatic transmission. They say it can be driven on its lithium-ion battery at 37 mph for 2.5 miles, which sounds like a new record. The electric stamina numbers are creeping up, but it's still not so significant. What's so great about that, in a BMW? The 528i is totally quiet and sips fuel at 37 mph anyhow.
The fuel mileage of 23/30 mpg City/Highway from the ActiveHybrid 5 is nothing to brag about. In fact, if you go to the BMW website and read all about the ActiveHybrid 5, you'll see that BMW boasts about the power and acceleration from 0 to 60 in 5.7 seconds, but never mentions fuel mileage.
On the highway, it's exceptionally smooth, like the 535i. We drove it mostly in its Eco Pro mode, and after a 20-mile uphill-downhill loop, we got 18.4 miles per gallon, not so impressive. If it's fuel mileage that matters, that 528i will give you better mileage in a nearly identical car, for $13,000 less.
Back on the track (Mazda Raceway Laguna Seca), we climbed into the high-performance M5. It makes 560 horsepower and 500 foot-pounds of torque over an amazingly wide powerband, from 1500 to 5750 rpm. It accelerates from 0 to 60 in 4.2 seconds, with a top speed of 155 mph, electronically limited. We drove an M5 with the 6-speed manual transmission and 7-speed twin clutch with paddle shifters, and found we preferred the manual gearbox. Not because the twin-clutch was bad, because the manual gearbox was sweet.
The M5 is totally different than the other 5 Series models. It starts with the twin-turbo 4.4-liter V8 engine and the same frame, but after that the parts are something else. Electronically controlled dampers, M-specific Servotronic steering, a stability control system with M Dynamic Mode, active limited-slip differential, high-performance compound brakes, suspension structure and sub-frame mods, and more.
Suspension, throttle and steering quickness can be individually set in Comfort, Sport and Sport Plus modes. And the combinations can be set in M1 or M2, which are basically memory positions. A driver can experiment and find what he likes. The instrument panel, exclusive to M5, shows what modes you're in. One thing we found is that Sport Plus makes the suspension too stiff for almost anything except a billiard-table smooth track. It was too stiff for Mazda Raceway Laguna Seca. The professional race drivers there, Scott Pruett and Bill Auberlen, agreed.
We found Comfort mode plenty firm for the M5 suspension for sporty driving on the street, and Sport mode isn't too stiff for relaxed driving. The steering and throttle response aren't too quick for around-town driving in Sport Plus. There is flexibility and range in the modes, and that's a good thing.
We can also tell you that with the window open, the exhaust sounds fantastic when you back off the throttle at high rpm. And that the rev limiter is abrupt. And that there's something that feels like turbo lag, at least when the car is in Efficient mode.
The M5 will understeer when pushed to its limit on the track, and that surprised us. We needed stability control a couple of times to keep us from pushing off the outside edge on the exit of an off-camber corner. The brakes, even with high-performance pads, are not up to the task, for a day on the track. We also drove an M6 with ceramic rotors and pads on this day, and they did the job. BMW says ceramic brakes will be available on the M5 for the 2014 model.
Another thing we can tell you is that the BMW M3, using the inline-6 (for the final year before switching to the V8), felt the best on the track, by a lot. Better balanced and more precise with its lighter engine than either the M5 or M6, making it the most fun, unless your fun comes from scaring yourself with horsepower. Pruett and Auberlen agreed.
Some of the safety features available for the 5 Series sound good, but we've found them to be a nightmare of confusion and wolf-crying. We could fill this review with examples of unintended consequences, from rearview cameras and warnings that give you little sense of what's back there while screaming at you that you're about to run into something; to lane departure warnings that treat you like you're a drunk driver just because they don't know the difference between a curve ahead or a driver's weave; to night vision that keeps telling you a ghost is walking across the road in front of you (while being unable to detect a deer); to active cruise control that won't let you get close enough to a car you're approaching on the freeway to maintain a steady speed; to blind-spot monitors that don't know the difference between a car and a post. We're not against progressive safety technology, when it works. We like the head-up display and automated headlights. Of course we like the crushable chassis structure and electronic stability control. But we believe manufacturers, not just BMW, are throwing many of these so-called intelligent electronic systems into cars so they can boast about them. The best suggestion we can make is to read online forums before you buy.