2013 BMW 640i Gran Coupe Driving Impressions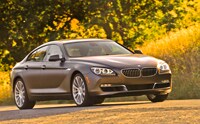 The 640i Gran Coupe is a very sweet car to drive. The 2013 V8 650i wasn't available to drive, but we've driven the 2012 650i coupe, and we can say that the six-cylinder handles lighter and quicker. The 650i is all about power; and in fact, for 2013 it adds 45 horsepower to make it 445 hp, up from 400 in 2012. The V8 is more of a point-and-shoot kind of car, while the 640i, even with the longer wheelbase in the Gran Coupe, wants to caress the driver in the corners.
The 640i six-cylinder engine is also incredibly smooth, and sounds nice, a heavily subdued if not sedated scream. Its 330 foot-pounds of torque is available from 1400 to 4500 rpm, and what more do you need? With 315 horsepower and that much torque, even with a car weighing 4190 pounds, you've got all the acceleration that real-world driving demands. The 0 to 60 time is about 5.4 seconds, and that's quick. But if you must, the V8 650i will accelerate to 60 mph in 4.5 seconds.
Fuel mileage for the 640i Gran Coupe is estimated by BMW to be 20 miles per gallon in the city, 30 mpg on the highway, or 24 mpg combined. We got about 21 mpg driving it hard over mountain roads, so an all-around average 24 mpg is more than reasonable.
The 8-speed ZF manual automatic transmission with paddle shifters does it all. The top two gears are serious overdrives, with long-legged ratios of 0.839:1 and 0.667:1, so the freeway rpm's are way low. Driving casually in automatic mode, the upshifts are seamless and kickdowns relatively infrequent; the transmission is programmed to use the engine's torque.
In effect, it's a close-ratio 6-speed, and, using the paddles, you can play with it like that. It will respond sharply and obediently. It will deliver hard downshifts, and will short-shift upward when you want it to. It upshifts at 5800 rpm by itself in manual mode, so you don't need to watch the tach; importantly, it upshifts at the same rpm every time, it doesn't second-guess the driver. We rarely are able to make those statements about automatic transmissions, not even the sportiest of them.
With all our praise of the handling, we should mention that our Gran Coupe was not equipped with the optional Active Roll Stabilization, which reduces body roll in corners and transition. Sensors calculate the degree of body roll and trigger hydraulic rotary actuators in the front and rear anti-roll bars, for flatter cornering.
The Gran Coupe is also available with Integral Active Steering, which combines the Active Steering system for the front suspension with a steerable rear suspension. Precisely harmonized steering movements of the front and rear wheels create a virtual lengthening or shortening of the vehicle's wheelbase, which improves high-speed stability and enhances maneuverability for both parking and city use. It's magic, invisible technology.
There are five driving modes: Comfort, Comfort Plus, Sport, Sport Plus, and Eco Pro. The driver can tune throttle response, power steering boost assistance, shock absorbers, automatic transmission shift characteristics, roll stabilization, and Integral Active Steering, to more than 250 combinations. If you're not overwhelmed, you can look at it two ways: perfection exists in there somewhere, or you'll go crazy trying to find it.
We tried all five dynamic modes during our few hours in the car, and we could feel the difference between Eco Pro, Comfort and Sport, but not Comfort and Comfort Plus, or Sport and Sport Plus. The important thing is that the ride in Sport mode was not harsh, and the transmission shifts came more quickly while the throttle response was sharper, so it's a good mode to drive around in when you're not feeling lazy. Also the steering is quicker.
In the comfort mode, the steering is slower, and the transmission upshifts when you let off the gas. That's fine around town. We've read one review that says Comfort Plus is mushy, but sometimes mushy is okay too.
The new Eco Pro mode is for saving fuel, as much as 20 percent, says BMW. It changes the accelerator mapping so that the same pedal travel delivers less power than in other modes, and the transmission upshifts sooner and downshifts later. Special displays in the instrument cluster let the driver know how much the driving range is being extended.
The brakes use lightweight floating calipers and vented discs, and they too get the full technology treatment, with Dynamic Traction Control, Cornering Brake Control, Dynamic Brake Control, Start-off Assistant for hills, Brake Drying function and Brake Fade Compensation. We used them ruthlessly on a curvy downhill road in the mountains, and they didn't fade.