2013 BMW 640i Gran Coupe Introduction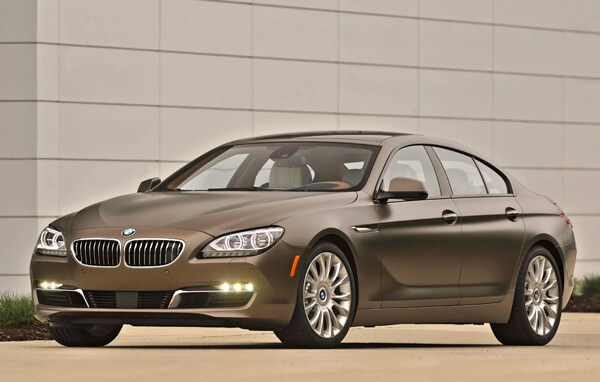 The BMW 6 Series Gran Coupe is an all-new model. Despite the coupe name, it's a four-door with good interior room and seating for four adults and one smaller person. The 6 Series Gran Coupe is physically distinctive, with its long hood, short front overhang, and longer passenger compartment. The roofline is low and stretches a long way to the rear deck, making a head-turning silhouette.
Its wheelbase is 4.5 inches longer than the regular 6 Series Coupe. Initially, it was offered with one engine, BMW's brilliant 3.0-liter inline 6-cylinder single turbo, called the BMW 640i Gran Coupe. Later there will be a 4.4-liter twin-turbo V8 BMW 650i Gran Coupe, an engine currently used in other BMW models. The all-wheel-drive BMW 650xi Gran Coupe will join the range a bit later.
The BMW 640i Gran Coupe contends with the Audi A7, Mercedes CLS, and Jaguar XJL, although it's the second-most expensive, with the A7 being most affordable. The BMW also has the least cargo space and the second-least rear legroom. Styling is what the car is intended to be all about.
Like all of the 6 Series BMWs, the lines are elegant and athletic; in fact, it's lower and wider than the BMW 550i that it's based on. It has a long hood with a powerful contour, short front overhang, and stretched roofline flowing smoothly to the rear deck.
Just when you think the BMW 3.0-liter inline six-cylinder engine can't get any better, their engineers announce more stunning work has increased both performance and efficiency. The 2013 version, with direct injection and variable valve timing, makes 315 horsepower and 330 foot-pounds of torque from 1400 to 4500 rpm, and easily propels this car that's no lightweight from 0 to 60 mph in 5.4 seconds. Top speed is electronically limited to 155 mph. Fuel mileage isn't EPA rated yet, but BMW estimates the 640i Gran Coupe will get 20 city, 30 highway miles per gallon, for a combined 24 mpg. We drove really hard on the throttle for half a day and got 21 mpg, so that number of 30 mpg at a steady 65 mph on the freeway is doable.
The silky and fast-revving engine is matched by a superb new 8-speed automatic transmission with paddle shifters. We tested and challenged it every way but sideways, and it met our every demand. It was always tight, quick, smooth, responsive and obedient, whether in manual sport mode, or auto mode shifting on its own. It exhibited none of the intrusive characteristics of 8-speed Mercedes transmissions.
There are a number of mechanical features BMW calls Efficient Dynamics measures. Brake Energy Regeneration, engine Auto Start-Stop, on-demand operation of ancillary components, intelligent lightweight construction, and extensive aerodynamic refinement, which all contribute to efficiency and fuel mileage. Auto Start-Stop shuts the engine off at stoplights, and re-starts it again when you need to go. It might increase fuel mileage, but we found the start-up annoying, and wonder how many BMW owners will use it to lower their fuel bill. (The feature can be switched off.) We also wonder about the additional wear on components such as the battery and starter.
Other features include standard adaptive xenon headlamps or optional adaptive LED headlamps, whose intense white light evenly illuminates the road while following its curves, and a rearview camera. Optional packages include Surround View, Parking Assistant, BMW Night Vision with pedestrian recognition, Lane Departure Warning System, Active Blind Spot Detection, and Bang & Olufsen High-End Surround Sound System. One feature we love is the Head-Up Display; BMW might not be the first with this, but it might be the best, with a full spectrum of colors displaying the information on the windshield. Options can add as much as $34,000 to the price, however.
The parade of technology continues. There's standard Dynamic Damper Control, electronic shock absorbers that adapt to the road surface and adjust compression and rebound settings continuously and independently. Optional Active Roll Stabilization provides precise and flat cornering.
The brakes use lightweight floating calipers and vented discs, and they too get the full technology treatment. The Dynamic Stability Control brings together the ABS, Dynamic Traction Control, Cornering Brake Control, Dynamic Brake Control, Start-off Assistant for hills, Brake Drying function and Brake Fade Compensation. We used them ruthlessly on a curvy downhill road in the mountains. They smelled hot, but didn't fade. Standard equipment includes 18-inch alloy wheels with all-season tires (245/45 R18).
The interior of the BMW 640i Gran Coupe is focused on the driver with the instrument panel and controls angled toward him or her. The doors are designed to make the compartment feel like a wedge, although not so much that we felt wedged in.
There is a Driving Dynamics Control function on the center console, with five modes: Eco Pro, Comfort, Comfort Plus, Sport, and Sport Plus. The driver can tune throttle response, power steering boost assistance, shock absorbers, automatic transmission shift characteristics, roll stabilization, and Integral Active Steering. We tried all five modes during our few hours in the car, and we could feel the difference between Eco Pro, Comfort and Sport, but not Comfort and Comfort Plus, or Sport and Sport Plus. The new Eco Pro mode is for economic driving; BMW says it can increase fuel mileage by 20 percent. It changes the accelerator mapping so that the same pedal travel delivers less power than in other modes, and the transmission upshifts sooner and downshifts later. Special displays in the instrument cluster let the driver know how much the driving range is being extended.
The instrument cluster uses round clean gauges, and a display with 10.2-inch high definition screen using trans-reflective technology that makes it easier to read in sunlight. The Navigation system, telephone and entertainment functions are controlled by iDrive.