2013 Buick Enclave Introduction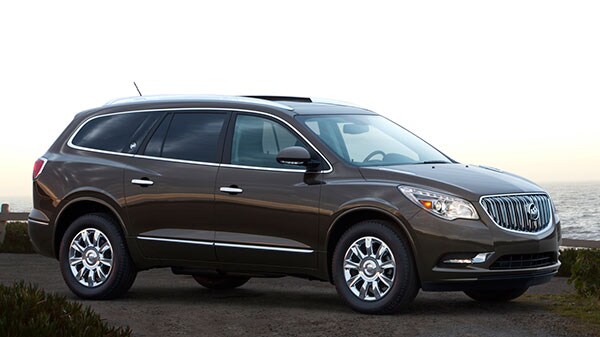 Buick Enclave is battling big-name competition; Acura, Volvo, Audi, Lincoln, and Mercedes-Benz all want the lead in the prestigious three-row luxury crossover segment. Yet the handsome, comfortable and efficient Buick Enclave effortlessly dominates this class in terms of sales. That's evidence of an exceptionally well-received package that delivers solid crossover luxury, deep value and three-row flexibility the public enthusiastically responds to.
Revised for 2013, Buick Enclave represents an astutely restated rendering of the crossover SUV, with Buick determined to drive it into more upscale American garages.
The 2013 Enclave benefits from a beautifully restyled interior and dashboard. Embellished with elegant ice-blue ambient lighting, brightly colored new climate controls and real upholstery stitching lends the driving compartment a feeling of premium quality. And for the technologically acute, the new Buick IntelliLink system supports audio streaming of Pandora Internet radio and Stitcher SmartRadio as well as available Sirius/XM satellite radio.
Externally, the 2013 Enclave is recognizably updated. A larger, more pronounced Buick waterfall grille delivers clear brand identification, while body-color rocker moldings and front and rear fascias communicate the Enclave's premium character. These are further accented by tasteful chrome highlighting. Big 19- and 20-inch wheels make a bold style statement, while LED headlights, taillights and running lights continue the Enclave's modern character.
New for the 2013 Enclave is a recalibrated suspension, delivering smoother, more comfortable touring, while at the same time providing well-controlled agility and road sensitivity during maneuvering. This is a difficult balance to achieve, but the Enclave has done it nicely.
Mechanically, the excellent Enclave 6-speed Hydramatic automatic transmission is carried over from the previous year, as is the fine V6 engine, delivering decent fuel mileage for this very large package, at 17/23 mpg City/Highway in front-wheel-drive form.
The key to any luxury crossover, however, is packaging, and the 2013 Enclave leads its class by providing more cargo space than any of the competition. It delivers more third-row legroom than the rest, and it features a brilliant second-row sliding seat provision that makes third-row entry simple and convenient.
And while Enclave passengers are onboard, safety is paramount. In 2011, this Buick earned National Highway Traffic Administration's highest five-star overall vehicle safety score and was named a Top Safety Pick by the Insurance Institute for Highway Safety. The new Enclave is equipped with all of the same mandatory airbag protections, but it features, with Chevrolet Traverse and GMC Acadia, something no other vehicle in the world can claim. Its industry-first front center airbag inflates from the inboard side of the driver's seat, protecting the driver and front-seat passenger from impacting each other during a severe side impact. This great idea will surely find its way into other large cars as soon as is feasible.
Simply put, the Buick Enclave is the complete package. Seating seven (or eight, with center bench at no extra cost), the American buying public has enthusiastically embraced this large and welcoming vehicle. With volumes of space, a crisp and newly freshened interior, and highway performance and agility that belie its considerable weight and mass, this is a full-size crossover family sport-utility vehicle to be taken very seriously. Better still, it boasts better cruising range than Acura MDX, Volvo XC90 and Mercedes-Benz R350. Small wonder it's Buick's best-selling model.