2013 Buick Enclave Summary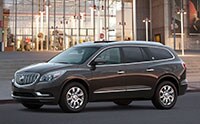 The Buick Enclave dominates its Luxury Crossover segment simply because there is no vehicle that can quite match its volume, comfort, value and stylish practicality. If there were ever an example of what American car companies do really well, this roomy, luxurious vehicle is it. It is efficient, easy to use, and welcoming to large and still growing families, the definitive contemporary American grand-touring machine.
Ted West filed this NewCarTestDrive.com report after his test drive of the Buick Enclave in the Northeast where he is based.