2013 Buick Encore Introduction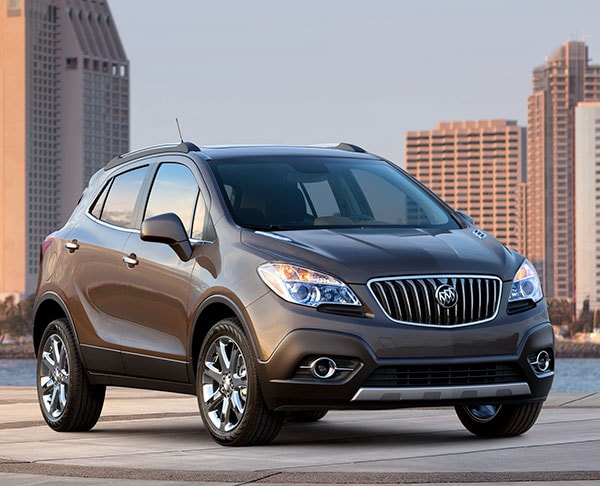 The 2013 Buick Encore is a new entry-luxury crossover utility vehicle. At first exposure, the Encore is a bit confusing. Viewed from the outside, it is a very compact package that may cause buyers to be skeptical of the small luxury crossover title. Can anything this small really be luxury? More to the point, can this small luxury vehicle achieve the established Buick image, which company spokesmen describe as inviting, approachable, warm?
But climbing into the Encore and pulling the door shut, instantaneously, the Encore's luxury makes itself felt in its elegant design, fine instruments and high-quality switch-gear. If the Encore you climb into has leather upholstery, its beauty and richness will leave you in no doubt that this is a luxury crossover. The layout and proportioning of everything in the cockpit feels so spacious and commodious that it's hard to remember the smallness that struck you looking at the vehicle from outside.
This is very definitely a little/big vehicle, a world car-sized crossover that will fit into countless environments and driving conditions. Its outside package is so compact that whenever we came up upon another Encore during our test driving, we were stunned at how diminutive it looked moving through traffic. The Encore we were driving, identical to the one out the window, seemed sumptuous inside, a satisfying vehicle that suited all our needs. With smoke-and-mirrors designing like that, the Buick stylists have shown themselves wizards of clever packaging.
Buick's marketing plan for the Encore was to build a nimble, agile SUV that would be easy to park, maneuver, and have an excellent turning circle (a mere 36.7 feet). It should have available all-wheel drive, the plan said, extremely flexible stowage adaptability, carry five passengers, and provide advanced technology in combination with real luxury. The good news is, that's the vehicle we tested on the urban and rural roads of Georgia.
But the good news continues: This little/big package showed very efficient over-the-road performance. Being physically small and light, at 3190 pounds for the front-wheel-drive model, the Buick Encore requires only an absolutely tiny 1.4-liter four-cylinder turbocharged engine, coupled to a 6-speed Hydramatic automatic transmission, to deliver adequate local and Interstate performance. Even with the heavier 3309-lb all-wheel drive model, the Encore delivers an EPA-estimated 23/30 mpg City/Highway. The front-wheel drive Encore gets 25/33 mpg City/Highway mpg, the highest fuel economy of any front-wheel-drive crossover.
Encore's performance equation seems to be extremely well balanced. It delivers thrift and luxury in generous degrees, available for a very attractive price. Many starter families will be enticed by this vehicle. But we suspect just as many empty-nesters, no longer needing their huge, now-empty Enclaves, will flock to this mini-Enclave, happy to have a familiar taste of their Enclave's comfort and elegance.