2013 Buick Verano Introduction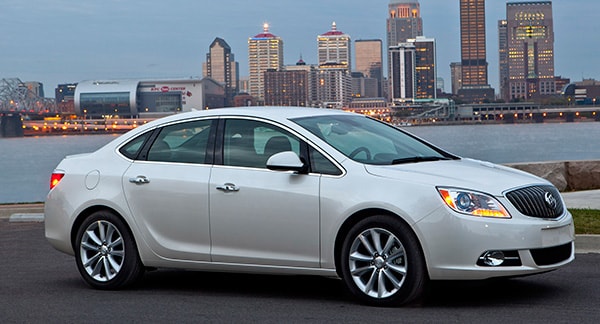 The Buick Verano is a premium compact car with a luxurious interior that's very enjoyable to drive. Launched as a 2012 model, Verano costs thousands less than the Acura ILX, Lexus IS 250, and Audi A3.
New for 2013 is the addition of a turbocharged engine to the lineup. The turbocharged 2.0-liter four-cylinder produces 250 horsepower and 260 pound-feet of torque. It adds to the fun, giving the 2013 Verano Turbo robust acceleration and willing passing power to go with its natural athleticism. The 2.0-liter engine is available with a 6-speed automatic or a new 6-speed manual transmission that makes its debut in the 2013 Verano.
The 2013 Buick Verano comes standard with GM's 2.4-liter Ecotec four-cylinder with direct injection and variable valve timing comes standard. It makes 180 horsepower and 171 pound-feet of torque, enough for most situations. It's notably smooth and exceptionally quiet. The 6-speed automatic transmission reacts appropriately whether you're driving casually or hard on the gas.
All 2013 Buick Verano models come standard with a rearview camera and Buick's IntelliLink infotainment system, and Side Blind Zone Alert and Rear Cross-Traffic Alert are newly available. Buick says the IntelliLink system also has improved voice controls this year. SiriusXM Travel Link is now offered, and SiriusXM Tune Select is added; it allows occupants to tag artists and song names, triggering a pop up on the screen when they are played on any satellite radio channel.
A compact car based on the Chevrolet Cruze, Verano is six inches longer than the Mazda3, and three inches longer than the Lexus IS 250. Verano is an attractive car with a short nose, steeply raked windshield, and crisp character lines.
The Buick interior is classy, with a rugged cloth and vinyl upholstery in the base model and excellent leather especially in higher line models. Interior trim is elegant, the center stack is simple and graceful, and the bucket seats are comfortable.
Verano is a very pleasant car to drive. We were impressed with the sporty character. Cornering, transmission performance, and ride quality are all impressive. We found the handling crisp and responsive. The brakes were firm and progressive as well.