2013 Cadillac ATS Introduction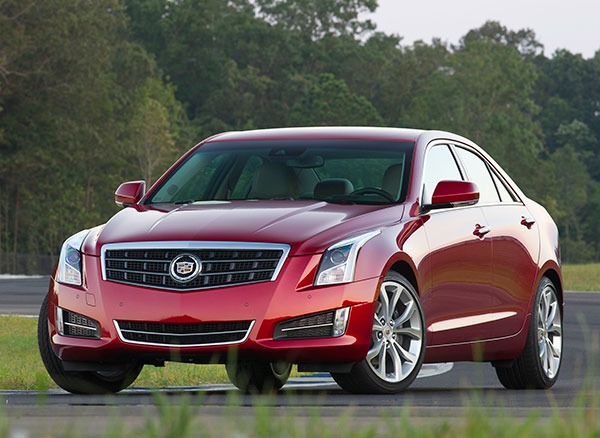 As turf wars carry on among the BMW 3 Series, Audi A4 and Mercedes C-Class, the all-new Cadillac ATS elbows its way in with lightweight construction, agile handling and a beautifully executed interior. And while it may not rule the roost, the Cadillac ATS is definitely in the game.
The 2013 Cadillac ATS was designed and engineered from the ground-up on an all-new platform. Its compact size marks a turning point for Cadillac, which has bought into the same sausage, different lengths philosophy of the Germans and now has true compact, midsize and full-size sedans in its lineup. ATS is the luxury brand's small offering (well, as small as compact can get these days, considering they're all getting bigger), and while it may not be diminutive, it's one of the leanest of the pack thanks to weight-saving technology, including the use of lightweight metals, that whittles the ATS curb weight down to as low as 3,315 pounds on base models, less than comparably equipped German competitors.
As with most cars in this class, the Cadillac ATS uses rear-wheel drive. All-wheel drive is available on some models.
Three engine choices are available on the 2013 Cadillac ATS, including two all-new four-cylinder options. Each uses direct injection and variable valve timing to maximize performance and fuel efficiency. The base engine is a 2.5-liter naturally aspirated inline-4, good for 202 horsepower and 191 pound-feet of torque. It's the least expensive and slowest of the bunch, with a manufacturer estimated 0-60 mph time of 7.5 seconds. A sprightly 2.0-liter turbo makes 272 hp and 260 lb-ft of torque and can go 0-60 mph in an estimated 5.7 seconds with the automatic transmission, or 5.8 seconds with the available manual. The top-of-the-line powertrain is GM's much-used 3.6-liter naturally aspirated V6, good in this application for 321 hp and 275 lb-ft. of torque, which propels the ATS from 0-60 mph in just 5.4 seconds. All versions of the ATS use GM's 6-speed Hyrdomatic transmission, with the exception of the 2.0-liter turbo, which also offers a new 6-speed manual in some trim levels.
Like its big brother the CTS, the Cadillac ATS was tuned on the track, including Germany's famous Nurburgring, often used by European car companies during the development process. The result is a light but solid chassis with near 50/50 weight distribution (a la BMW) that performs beautifully on the road. Driving dynamics are further enhanced by an all-new five-link independent rear suspension and optional Brembo brakes with an all-new, high-tech coating that keeps the rotors looking as good as they perform. Magnetic Ride Control, now in its third iteration, is optional on most ATS models, which adjust suspension real-time for even more responsive driving.
Inside, fit and finish rivals that of any Audi or BMW, although we found some interior configuration options limiting. Upper trim levels of the ATS use CUE, Cadillac's new touchscreen interface. An acronym for Cadillac User Experience, the large screen uses proximity sensors, haptic feedback and voice recognition to control phone, audio and navigation functions. Unlike many luxury vehicles with proprietary interfaces (like the BMW iDrive and Mercedes Benz's COMAND system), there is no central control knob on the center console and all functions are performed either through voice or via the touchscreen. However, CUE doesn't appear on the base model, and navigation costs extra on all but the most expensive trim levels.
Fuel economy for the Cadillac ATS 2.5-liter model with rear-wheel drive is an EPA-estimated 22/33 mpg City/Highway and, unlike its German rivals, Regular gasoline is recommended. The ATS with 3.6-liter V6 is rated at 19/28 mpg, also on Regular gas, or 18/26 mpg with all-wheel drive. ATS 2.0-liter turbo automatic is expected to be 22/32 mpg.
In addition to the BMW 3 Series, Audi A4/A5, and Mercedes-Benz C-Class, the ATS competes with the Acura TSX and Lexus IS.