2013 Cadillac SRX Introduction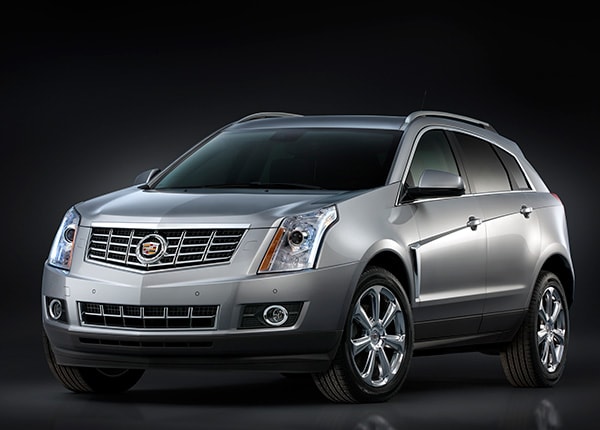 One of the top-selling luxury crossovers in the U.S., the Cadillac SRX boasts unique styling, luxurious cabin appointments, a powerful engine, and a ride that's smooth and able.
The 2013 Cadillac SRX gets a revised interior that incorporates Cadillac's CUE touchscreen interface. An acronym for Cadillac User Experience, the large screen uses proximity sensors, haptic feedback and voice recognition to control phone, audio and navigation functions. Unlike many luxury vehicles with proprietary interfaces (like the BMW iDrive and Mercedes Benz's COMAND system), there is no central control knob on the center console and all functions are performed either through voice or via the touchscreen. CUE has received mixed reviews from experts and consumers. Its natural voice recognition, when it works properly, is a refreshing change from some systems that require the user to memorize specific commands. But a few idiosyncrasies and a glossy screen that shows fingerprints easily makes CUE far from perfect.
New safety packages, already found on the XTS and ATS sedans, also debut on the 2013 SRX. With the Driver Awareness package, the driver's seat will vibrate to warn the driver of an impending collision. More active-safety features are available for 2013, such as automatic collision preparation and automatic low-speed braking, both when going forward and when in reverse.
The front fascia of the 2013 SRX has been mildly refreshed. Otherwise, the SRX carries over essentially unchanged following a significant update for 2012.
SRX is powered by a 3.6-liter V6 that produces 308 horsepower and 265 pound-feet of torque. The 3.6-liter V6, which debuted for 2012, uses many weight saving techniques, such as a plastic intake manifold, lighter connecting rods and exhaust manifolds which are integrated into the heads. To combat the ticking noise characteristic of direct-injection systems, Cadillac engineers packed on added sound-proofing material in strategic places for 2012, which helps to keep the cabin quiet.
Fuel economy for the 2013 Cadillac SRX is an EPA-rated 17/24 mpg City/Highway with front-wheel drive, 16/23 mpg with all-wheel drive models.
All-wheel drive is available for all but the base model. Front-wheel drive is standard.
Inside, the SRX continues to impress with upscale materials and thoughtful design. Smart cargo solutions appeal to practical senses. An optional Pet Guard Cargo Net behind the front seats can help keep your dog in back and may help prevent cargo from flying up front in hard braking. A rear U-well rail system uses adjustable sliding bars to keep gear in place, rather than using nets or boxes that rattle.
Midsize crossovers such as the BMW X3 and Audi Q5 give the more powerful SRX a run for its money, but we'd take the Cadillac any day over the best-selling Lexus RX.