2013 Chevrolet Camaro Introduction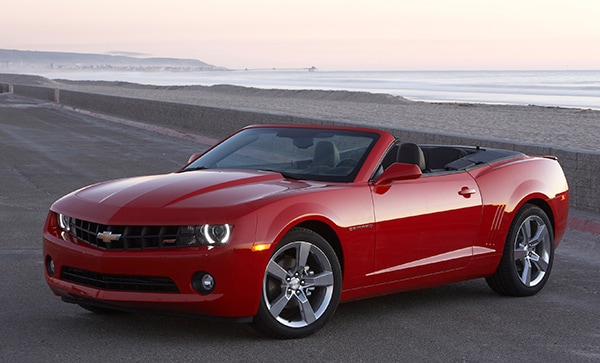 The 2013 Chevrolet Camaro is in its fifth-generation, last redesigned for the 2010 model year. For 2013, the Camaro remains relatively unchanged, but upper trim levels do get Chevrolet's MyLink touchscreen interface, with optional GPS navigation. A new race-inspired 1LE Performance Package on SS models equipped with the manual transmission includes a sportier suspension, high-performance summer tires and unique gearing.
2013 Camaro LS and Camaro LT models come with a 3.6-liter V6 that makes 323 horsepower and 278 pound-feet of torque. A six-speed manual transmission is standard and a six-speed automatic is optional. In terms of power, the V6 can pretty much pass for a V8, a bonus for the price. The V6 on 2013 models revs to 7200 rpm.
Engine modifications introduced for 2012 help with power and efficiency, and include a revised cylinder head design with integrated exhaust manifolds, improved intake ports, larger intake valves, longer-duration camshafts, a composite intake manifold, new fuel pump, optimized-flow fuel injectors, cylinder block enhancements, stronger and lighter connecting rods, and a cleaned up camshaft cap and throttle body.
A Camaro LS achieves a fair EPA fuel economy rating for its class, at 19/30 mpg City/Highway with the automatic transmission.
Camaro convertibles are equipped like the coupes but feature a power soft top fitted with acoustical foam in the headliner to minimize noise with the top up. This latest-generation Camaro was designed from the outset to include convertible models, and reinforcements were added in four key areas to increase rigidity.
Camaro SS uses the 6.2-liter V8 from the outgoing Corvette, good for 400 hp and 410 lb.-ft. of torque with a 6-speed automatic, or 426 hp and 420 lb.-ft. with a 6-speed manual gearbox. The SS uses firmer shocks, springs and anti-roll bars than the V6 models, but the ride doesn't suffer for it. A limited-slip rear differential is included to reduce wheel spin when trying to put all that power down.
The uber-high-performance Camaro ZL1 uses a supercharged version of the 6.2-liter V8 good for a whopping 580 hp and 556 lb.-ft. of torque. It can accelerate from zero to 60 in 3 seconds flat with a top speed of 184 mph. While testing at Germany's famed Nurburgring racetrack, Chevrolet factory drivers set a lap record with the ZL1, beating the Porsche 911 GT3. At $55k the ZL1 is cheap, given its supercar levels of performance. We drove a Camaro ZL1 at Virginia International Raceway and found it both thrilling and easy to drive fast. It's a fantastic performance car, great for track events or autocrossing. Yet it can cruise comfortably around town and on the highway as a daily driver. The suspension does not punish the driver on rough roads. It's a very impressive machine.
We found the handling, ride and brakes to be excellent in both the Camaro LT with the V6 and the Camaro SS with the big V8, although the SS suspension is stiffer and its 20-inch tires are firmer. Inside, the Camaro cabin is quiet, so 80 mph feels more like 70. Interior materials are good, but the instrumentation is disappointing, with GM still trying to be retro rather than clean with gauges.
Perhaps the Camaro's biggest drawback is its limited driver visibility, due it a high beltline and small windows. The view out front is compromised by the long hood and raked design. Rear visibility over the driver's shoulder is hampered by the low, slanted roofline.
Competitors to the 2013 Chevrolet Camaro include other American pony cars like the Dodge Challenger and Ford Mustang, each with its own high-performance versions. A refreshed Camaro is on the way for 2014, so there may be deals and offers on 2013s.