2013 Chevrolet Camaro Summary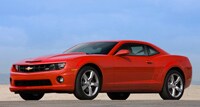 The Chevrolet Camaro offers all the classic benefits of a Camaro: striking lines, powerful engines, great transmissions, superb handling and ride and great prices. Interior visibility is limited and the back seats are not for adults, and many interior touches are more for form than function.
NewCarTestDrive.com correspondent Sam Moses reported after his test drive of the Chevrolet Camaro in the Pacific Northwest; with Mitch McCullough reporting from Virginia International Raceway; Laura Burstein reporting from Los Angeles.