2013 Chevrolet Cruze Introduction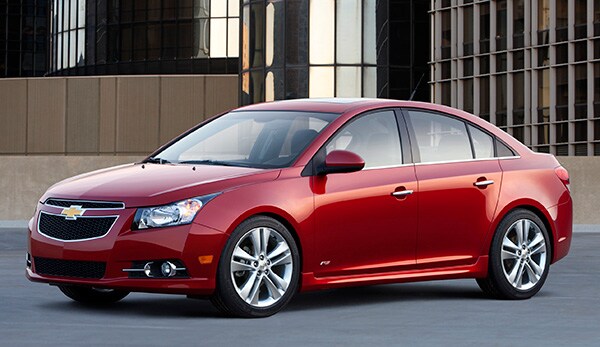 The Chevrolet Cruze is an excellent choice among compact sedans. It offers a long list of standard features and admirable fuel economy, especially with efficient Eco models. Inside, it has a roomy interior with attractive, quality materials, and it has a big trunk. It's an attractive car with relatively conservative, angular styling. A four-door sedan, Cruze seats five, four comfortably.
New for 2013 is Chevrolet's MyLink infotainment system. Standard on all upper-level models, including the 2013 Cruze LTZ and 2013 Cruze Eco, MyLink includes voice recognition technology, Bluetooth streaming audio, and support for Pandora and Gracenote. Two new audio systems also appear on the 2013 Chevrolet Cruze, as well as new options and packages. An optional Enhanced Safety Package for the 2013 Cruze LT features a blind spot alert system, rear cross traffic alert and rear park assist.
Launched as a 2011 model, the Cruze is a front-wheel-drive compact sedan developed jointly by GM tech centers in Asia, Europe and the United States to compete with the stylish Hyundai Elantra, sporty Mazda3, and affordable Kia Forte, as well as the sales-leading compacts, the Honda Civic, Ford Focus and Toyota Corolla.
The styling is conservative, though it's a well-designed, handsome car. Its interior is one of the roomiest in its class, with acceptable space for four adults, and it's also one of the nicest. Its trunk is also one of the largest in a compact sedan.
Cruze is offered with a choice of two four-cylinder engines. The base Cruze LS gets a 1.8-liter inline-4 that makes 138 horsepower and 125 pound-feet of torque. Cruze LT, LTZ and Eco models are powered by a turbocharged 1.4-liter four-cylinder good for 138 hp and 148 lb.-ft. of torque. There's a choice of 6-speed manual or 6-speed automatic.
Fuel economy is very good from the turbocharged 1.4-liter, at 26/38 mpg with both transmissions. Cruze Eco rates an impressive 28/42 mpg with the manual transmission and 26/39 mpg with the automatic. Fuel economy for the 2013 Chevrolet Cruze with the base 1.8-liter engine is an EPA-rated 25/36 mpg City/Highway with manual transmission and 22/35 mpg with the automatic.
Cruze Eco's high fuel economy rating is thanks in part to its aerodynamic features, including grille vanes that close at highway speeds, which help it slip through the air more easily. It also weighs about 200 pounds less than other Cruze models. Efficiency comes with a price, however, as the Cruze Eco sacrifices performance in the form of slower acceleration, longer stopping distances, and poorer handling compared to the less fuel-friendly Cruze models.
Ride quality is outstanding, and we found the Cruze handles exceptionally well. Its steering is powered by electricity to save fuel. Underway, the steering feels sharp, with decent feel. We enjoyed driving it.
Cruze comes well-equipped with premium features such as a tilt-and-telescoping steering wheel. On all trims but the base, the wheels are made of alloy, and are not only lighter than steel, but quieter. While the Cruze starts a segment-appropriate $17,130, a loaded, top-of-the-line LTZ will crack the $26,000 barrier. True, it comes swathed in leather and loaded with technology, but for that kind of money, the alternatives include larger, very nicely equipped midsize sedans. For this reason, we think the midrange Cruze LT hits the sweet spot in this class.
In short, the Chevrolet Cruze deserves to be on the list for anyone shopping for a fuel-efficient economy car.