2013 Chevrolet Equinox Driving Impressions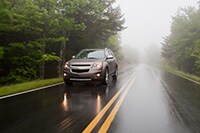 With its car-like unibody design, the Equinox offers a controlled if somewhat gruff driving experience. The vehicle leans a bit in turns, but body motions are kept in check. Like its Honda CR-V or Toyota RAV4 competitors, handling feels like a tall car, not a heavy SUV. The brakes are easy to modulate, and the electric power steering that comes with the four-cylinder engine is light and somewhat numb. The V6 gets hydraulic steering that is a little more direct, but all models are rather noisy. Road and engine noise can intrude on conversation, and we noticed some body drumming over washboard surfaces. Most of Chevrolet's latest offerings are more refined.
The ride, however, is quite good. With the standard 17-inch wheels, the Equinox absorbs even sharp bumps without disrupting passenger comfort. The available 18-inch wheels also provide a comfortable ride, even on rough Midwestern streets. We haven't tried the 19s, but we suspect they will offer more road feel without being too harsh. Models with the V6 get new dual-flow front dampers that both help the ride on rough surfaces and firm up to help to improve handling through steady-state curves.
The 2.4-liter four-cylinder engine benefits from direct fuel injection, which improves both power and fuel economy. It provides usable power from a stop and on the highway, and it even offers decent passing punch. Chevrolet quotes a 0-60 mph time of 8.6 seconds for a front-wheel drive model, which is respectable for a four-cylinder-powered vehicle of this size. The 2.4-liter engine is rated at 182 horsepower at 6700 rpm and 172 pound-feet of torque at 4900 rpm.
Fuel economy for the 2.4-liter four-cylinder is an EPA-rated 22/32 mpg City/Highway on an Equinox with front-wheel drive. Not even the RAV4 or CR-V can match the Equinox's 32 mpg Highway figure. The Mazda CX-5, however, offers up to 35 mpg on the highway. While engine noise is a problem in all models, the 2.4-liter four is smoother than most four-cylinder engines.
The new 3.6-liter V6 is a considerable improvement over the 3.0 it replaces. It offers much more power with little penalty in fuel economy (just one mpg on the highway). It makes 301 hp at 6500 rpm and 272 pound-feet of torque at 4800 rpm, up 37 hp and 50 pound-feet, respectively. Fuel economy is a government-rated 17/24 City/Highway mpg with front drive and 16/23 with all-wheel drive. With the V6, the Equinox has a towing capacity of 3500 pounds. The four-cylinder can tow only 1500 pounds.
Both engines are Flex-Fuel capable. However, using E85 (85 percent ethanol, 15 percent gasoline) results in an EPA-estimated 14/20 mpg with the 2.4-liter four-cylinder, 12/17 mpg with the 3.6-liter V6. Not an efficient strategy.
While it was hard to tell the difference between the 3.0-liter V6 and the 2.4-liter four, the power of the 3.6 is much more noticeable. It makes the Equinox jump off the line and provides ready and willing passing punch. Chevrolet says a front-drive Equinox with the V6 can accelerate to 60 mph in 6.7 seconds, more than a second quicker than last year. The new engine also sounds quite good, emitting a refined growl. We wouldn't have spent the extra $1500 for the V6 last year, but now we would.
The Equinox's 6-speed automatic transmission is updated for 2013. The changes are both internal and in the computer controls. They make the shifts quicker and keep the transmission from hunting for gears as often as in the past. We found it to be smooth, responsive, and hard to confuse.