2013 Chevrolet Equinox Introduction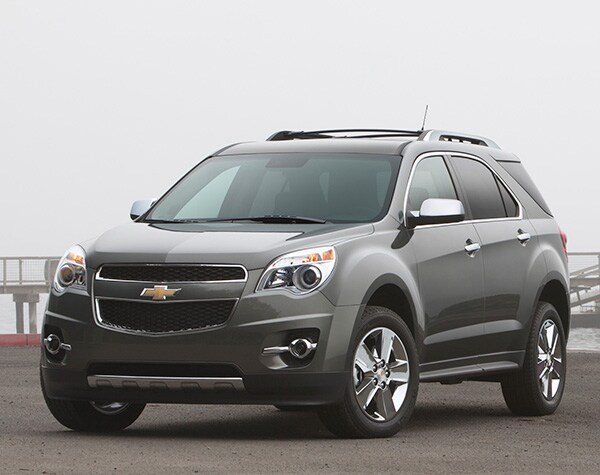 The Chevrolet Equinox has pricing and features of a compact SUV, but it's slightly larger than its direct competition, closer in size to a midsize and it has features not expected in its price class.
Front-wheel drive is standard, optional all-wheel drive adds winter weather capability. Equinox offers a choice of four-cylinder and V6 engines.
The standard 2.4-liter four-cylinder uses direct injection for more power and better fuel economy. It's smoother than most four-cylinders and we think it's a capable engine. The 2013 Equinox with the 2.4-liter engine and front-wheel drive gets an EPA-estimated 22/32 mpg City/Highway; the 2013 Equinox AWD is rated at 20/29 mpg.
For 2013, a 3.6-liter V6 replaces the previous 3.0-liter V6, adding 14 percent more horsepower and 22 percent more torque while delivering virtually equivalent fuel economy. The numbers are 301 horsepower and 272 pound-feet of torque. The 2013 Equinox with 3.6-liter V6 is EPA-rated at 17/24 mpg City/Highway. With all-wheel drive, the 2013 Equinox AWD is rated 16/23 mpg. Regular gasoline is recommended for all Equinox models; more-expensive Premium is not needed. We found the more powerful V6 makes upgrading to the bigger engine worthwhile.
The 6-speed automatic transmission is updated, also, which benefits all 2013 Equinox models with a smoother driving experience than before.
The current model is the second-generation Equinox, which was launched as a 2010 model. 2013 Equinox models come with some new features, including an eight-way adjustable front passenger seat and a universal garage door opener. The 2013 Equinox LTZ is available with Lane Departure Warning and Forward Collision Alert, which can help the driver avoid an accident.
Equinox offers good ride quality, absorbing sharp bumps without disrupting passenger comfort, whether with the 17-inch or 18-inch wheels. The Equinox is not sporty, but its handling is on par with that of the Honda CR-V and Toyota RAV4.
Interior roominess is one of its major strengths. Equinox has plenty of room for up to five passengers and their cargo. The front seats are comfortable and supportive, and they have 10 inches of travel, so drivers of all sizes will fit. The useful MultiFlex rear seat offers eight inches of travel, so tall passengers can ride in back or the driver can push the rear seat forward to carry more cargo.
Equinox has an attractively designed cabin, but the sea of hard plastics and the lack of noise isolation impart a cost-cutting feel. There are some nice amenities, though, including ice blue ambient lighting, dual-zone automatic climate control, a power liftgate, and a dual-screen rear DVD entertainment system. Chevrolet's MyLink touchscreen infotainment system is also available; it provides a link to apps through smartphones.
A roomy cabin and a reasonable pricing make the Chevrolet Equinox an attractive alternative to smaller compact crossover that cost about the same. Buyers get some nice amenities not expected in this price range.