2013 Chevrolet Equinox Summary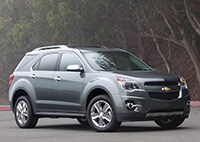 The Chevrolet Equinox is sized like a midsize and priced like a compact. Equinox offers useful interior space for people and cargo, as well as a choice between thrifty fuel economy and willing power. It looks good, has a smooth ride, and a controlled dynamic character. Small families looking to downsize from a large, inefficient SUV will find the Equinox a good value. However, new competitors like the Mazda CX-5 and Ford Escape offer greater refinement and better handling for roughly the same price.
New Car Test Drive correspondent Kirk Bell filed this report after test drives of Equinox models in Detroit and San Francisco.