2013 Chevrolet Malibu Driving Impressions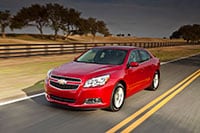 The 2013 Malibu is no BMW, but it's far closer than it's ever been before.
Malibu Eco's highly tuned mild-hybrid Ecotec 2.4-liter inline four-cylinder, though small in displacement, is engineered to produce V6 performance with inline-4 fuel economy. The Malibu Eco uses an electrical battery pack that adds a hearty boost of 15 horsepower through added electric power. This electrical charge, accumulated through regenerative braking, energy that would otherwise be lost, also shuts down fuel delivery during some deceleration conditions. At such times, the engine and electric motor continue spinning, allowing a seamless restart of the Malibu's auto-stop system. The latter, incidentally, has no lurch and surge and is better than BMW's balky auto-stop systems.
In other respects, the Ecotec is engineered to the Nth degree: aluminum block, head and pistons, DOHC, direct injection, with continuously variable intake and exhaust timing, and electronic throttle control. The engine's peak gasoline-generated thrust is 182 horsepower at 6200 rpm. When accelerated, the combined gasoline and added electric boost take a moment to gather up (not unlike the momentary hesitation of an automatic transmission kickdown), but when this is accomplished, the Malibu Eco accelerates well. Coupled to the new Hydra-Matic 6T40 6-speed automatic, it's an entirely adequate performance package. Chevrolet estimates Malibu Eco's 0-60 acceleration performance at 8.7 seconds.
But we mentioned inline-4 fuel mileage. With all its solid performance, the Malibu Eco delivers EPA City/Highway mileage of 25/37 mpg. Right in the ballpark with the hybrid versions of its competition.
Even more startling is the Malibu Eco's handling. As a world car, this Malibu's agility and stability will be judged by standards nobody in Hardy's Corners ever thought of. And we can all profit from that. The minute we put the Malibu through its first high-speed bend, this was clearly like no Chevrolet sedan we'd tested. It corners flat, firmly, fully prepared for the next command. It doesn't yet have the live, bounding-ahead feel of the very best European sports sedans, but this is a mid-size sedan competing with Toyotas and Hondas. There is room for improvement, perhaps, but it's a very, very good start. It could feel more lively, more sporting, but it does the right things in the right way, and for a Chevy sedan, that's huge. This will pay off handsomely in emergency avoidance maneuvers.
At the same time, the Malibu Eco's ride is quiet and very compliant. Our driving was in the rough, rugged northeast, where pavement is like a lava flow. Yet despite the Eco's well-disciplined suspension, it also tuned out the roughness under foot effortlessly. First rate.
The brakes, too, were exemplary: powerful, easily modulated, a silent partner in the act of driving, just as they ought to be.