2013 Chevrolet Malibu Introduction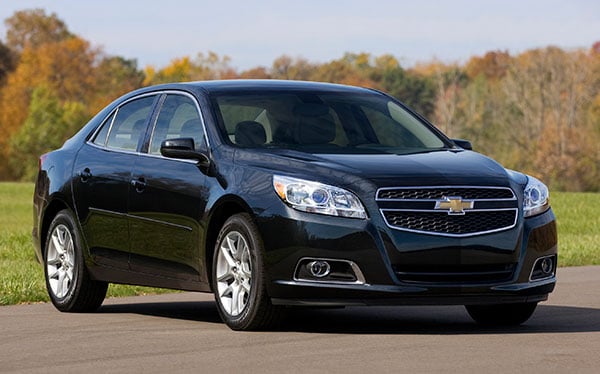 The Chevrolet Malibu is completely redesigned and re-engineered for the 2013 model year and the 2013 Malibu is a winner, delivering a smooth ride, responsive handling, cabin comfort and ease of use. The 2013 Malibu is a midsize sedan with a choice of powertrains, ranging from a low-cost 2.5-liter four-cylinder engine to the sporty 260-horsepower Malibu Turbo to the Malibu Eco mild hybrid that rates an EPA-estimated 25/37 miles per gallon City/Highway.
A quick glance at the 2013 Malibu tells you you're looking at a new kind of Chevrolet. Completely redesigned, the 2013 Malibu has an international look about it while not being either outlandish or overdone. It looks both modern and nicely understated; the stylists resisted the temptation to go Lady Gaga just to attract attention.
The interior, like the exterior, is handsome and, for a Chevrolet, pleasingly elegant. The luxury level of this Chevrolet seems almost Buick, though drawn with a much freer hand. Obviously, having the mission of standing out all around the world has not hurt Chevrolet's styling vocabulary in the least.
But the minute we drove the 2013 Malibu Eco around a fast bend, we knew we were driving a new kind of Chevrolet. It's a family car, to be sure, filled with all the familiar keynotes that define mid-size Chevrolet sedans. But in the same moment, it is a far more roadable vehicle than the Malibus of five or ten years ago. Gone is the vaguely ramshackle ride and the wanton tendency to lean far over when cornering in even the slightest haste.
Also gone is the wayward, numb sense of not knowing what the pavement beneath you is telling you. A proper driver's car communicates precisely what the driving conditions are, and serious lapses in driver feedback have ever been a shortcoming not only of non-Corvette Chevrolets but most American cruisers. Yet very suddenly, the new Malibu is a genuine contender in the world driver's car sweepstakes. It's not perfect; the more expensive sports-sedan marketers, after all, have had decades' more experience at fine-tuning their cars' behavior. But this Chevrolet family sedan has made a truly remarkable move in their direction. It is a genuinely rewarding car to drive. It's handling and ride are comparable to that of the superb new 2013 Honda Accord.
Furthermore, the Malibu Eco model's thriftily priced mild-hybrid drivetrain we tested has an impressive new E-Assist electrical torque-boosting arrangement that adds force to the car's very fuel-efficient 2.4-liter four-cylinder engine. The result is vigorous over-the-road performance, achieved while also registering very high highway mileage.
The 2013 Malibu Eco is a sleek new mild-hybrid package that is reasonably roomy, handsomely styled, and most of all, a convincing contemporary American rendering of the world car. The 2013 Chevrolet Malibu Eco mild hybrid is debuting simultaneously in the U.S. and China. That singular fact tells you how completely the world view at Chevrolet and General Motors has changed. Though General Motors has long paid lip service to the concept of world cars, very suddenly in 2012, it is a world car company and will be judged by world-car standards. It's no longer enough to be applauded in Hammond, Indiana; it also has to be craved in Beijing, China and Singapore, Malaysia, and if such a thing be possible, Munich, Bavaria.