2013 Chevrolet Malibu Summary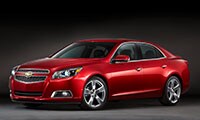 The 2013 Chevrolet Malibu is Chevrolet's first true world mid-size family sedan. It rises to the challenge of competing against the best from Europe and Japan, and as such, excels in areas where no Chevrolet mid-size family sedan has excelled before. It combines efficiency, advanced engineering, agility and style, at a Chevy price, in a way that will startle many.
Ted West filed this NewCarTestDrive.com report after his test drive of the Chevrolet Malibu Eco in the Northeast.