2013 Chevrolet Silverado HD Summary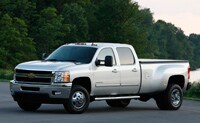 The 2013 Chevrolet Silverado HD wins bragging rights in diesel pickup horsepower wars, trails in torque. It can be mop-out simple or heated leather deluxe, tow across the country or just cart hay across the farm, and run on gasoline, diesel or B20 biodiesel. If you do not plan on working it, a Silverado HD is overkill. If you do, it's a good tool for the job.
G.R. Whale filed this report to NewCarTestDrive.com from Flintstone, Maryland.