2013 Chevrolet Sonic Introduction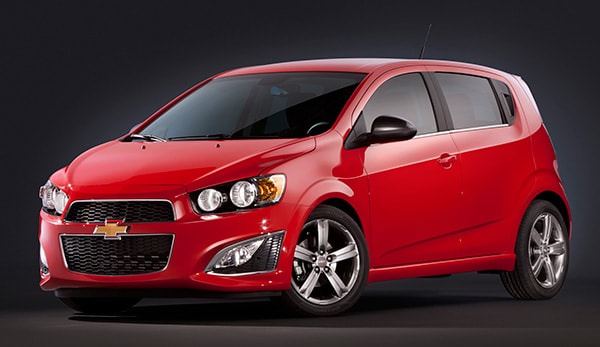 Among the best of its class, the Chevrolet Sonic is a newly designed subcompact built in the U.S. on a new General Motors global platform that offers refinement and sporty handling. Sonic comes in four-door sedan and five-door hatchback versions and offers a choice of four-cylinder engines.
Launched as a 2012 model, Sonic comes in LS, LT, and LTZ models. For 2013, a sporty Sonic RS model joins the lineup while the rest of the 2013 Sonic lineup benefits from technology upgrades and additional features.
The 2013 Chevrolet Sonic RS offers sportier handling and performance. Sonic RS comes with the top-of-the-line 1.4-liter turbocharged engine along with a sports suspension, four-wheel disc brakes, 17-inch alloy wheels, leather seating surfaces and special exterior and interior trim. Unique gear ratios for the 6-speed manual and a unique final drive ratio for the automatic give the Sonic RS more responsive acceleration at the price of fuel economy. Sonic RS is only available as a hatch.
The Chevrolet Sonic comes standard with a 1.8-liter engine rated at 26/35 miles per gallon City/Highway. The 1.8-liter delivers 138 horsepower at 6300 rpm and 125 pound-feet of torque at 3800 rpm. Those numbers are worth noting in comparisons with the optional turbocharged engine. We found the 1.8-liter engine offers sprightly performance and a wide powerband. For 2013, Sonic offers a PZEV (partial zero emissions vehicle) version of the 1.8-liter engine.
The optional 1.4-liter turbocharged engine is both more powerful and more fuel-efficient, however. The 1.4-liter turbo delivers 138 horsepower at 4900 rpm and puts out 148 pound-feet of torque that starts at way down at 1850 rpm and extends through 4900 rpm. Fuel economy is 29/40 mpg City/Highway with the standard 6-speed manual gearbox. Note that the turbocharged engine develops its horsepower at lower revs than does the 1.8-liter engine. Drivers find the Sonic zippier and more fun to drive with the 1.4-liter turbo, and they spend less money on gas. So we think the turbo is worth the extra money.
The 1.8-liter engine is available with a 5-speed manual or 6-speed automatic; the 1.4-liter turbo is available with a 6-speed manual or the 6-speed automatic. Sonic comes standard with a hill-hold feature on both transmissions, especially welcome on the manual gearbox on hilly terrain. When the driver is stopped and releases the brake pedal, the brakes electronically hold the car in place for two seconds, thanks to a sensor that detects the tilt of the body.
Newly designed, the Sonic looks fresh and new. The Sonic has an urban vibe, particularly the five-door hatch. Sharp creases, exposed headlamps and motorcycle-inspired design cues set it apart from other compacts, while good fit and finish and available forged alloy wheels keep it from looking cheap.
Sonic comes standard with 10 airbags, including seat-mounted thorax side-impact, head curtain and knee airbags. Other nice touches not often found standard on a sub-$15,000 car include a tilt-and-telescoping steering wheel and 60/40 folding rear seats.
We found the Sonic's handling to be good in general, not just for a low-priced subcompact. The body structure is quite stiff, which aids both handling and ride comfort. Corvette engineers helped tune the MacPherson strut front and torsion beam rear suspension for the U.S. market to strike a balance between fun and comfort. All but the RS model use front disc brakes and rear drums, the latter the norm for the class because they are less expensive than rear discs.
The interior is comparable for the class. While most of the interior materials are hard plastic, that's expected at these prices. Fit and finish in the Sonic is better than most, but some materials such as the headliner appear low grade. Chevrolet includes a new MyLink infotainment system with the 2013 Sonic LTZ and RS. Chevrolet MyLink features a seven-inch color screen with Bluetooth streaming audio. Access to apps is available. A MyLink navigation app called BringGo promises navigation for just 50 bucks.
2013 Sonic models get many minor upgrades, including revised OnStar buttons, blind-spot mirrors, an available six-speaker premium audio system, and upgrades to many options.
We think the Chevrolet Sonic has an edge over the Toyota Yaris, Nissan Versa, and Honda Fit when it comes to sportiness and refinement, though the Ford Fiesta and Mazda2 offer similar strengths at similar prices.