2013 Chevrolet Spark Driving Impressions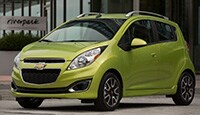 The first observation about driving the Spark must mention how well stocked it is in driving aids. Despite being a bargain-basement sedan, it is equipped with electronic stability control, traction control, four-wheel ABS anti-lock brakes, brake assist, and a tire-pressure monitor, not to mention, all 10 mandated airbags.
Remotely releasing our Spark's electric door lock and climbing in, we were prepared for anything from a tight, disciplined small car to a fizzy little imitation trying to make it in the big league. The miniscule four-cylinder started up crisply and sounded quiet and well engineered.
Our first drive would be in the wilds of New York's bumpy, crowded, no-mercy Brooklyn-Queens Expressway. Keeping in mind this was an 11-second zero-to-60 vehicle, we drove it on Brooklyn surface streets first before facing the Expressway. The 1.2-liter four-cylinder seemed responsive and game, so picking our moment, we joined the Expressway.
But as soon as we hit the deep dips and bumps at 60 mph, something was very wrong. The Spark was rebounding harshly, turning each impact into two or three impacts. When we got to the Chevrolet engineer we were meeting 10 minutes later, we complained, and he immediately began checking tire pressures. But how could it be? Tire pressure! He found the front tires were five pounds underinflated, and the rear tires were two pounds overinflated. He said they all must be at 38 pounds.
Sure enough, back on the Expressway, the Spark cruised smoothly across the cratered surface, problem solved. Tire pressures are as critical to the Spark as they are to a race car.
From then on, it was a surprisingly impressive little car. Its power was minimal, but its compactness gave it a kind of sportiness only small cars ever achieve. Impressive when cornered forcefully, its little 15-inch tires did their work bravely. The Spark has electronic steering, which could be a terrible thing if engineered poorly, but in the Spark, feedback and road feel left little to grouse about. Though the brakes were an old-fashioned combo of discs in front and drums in the rear, the light Spark stopped firm and true.
Escaping the city jungle (never a bad thing), the little Chevy stretched out, delivering a pleasant ride at highway speeds. Its shock absorber damping was everything it should be, and wind noise was nothing obtrusive. The only thing you need to get used to is the people in bigger cars smiling and waving at you, expecting a dozen clowns to climb out.