2013 Chevrolet Spark Introduction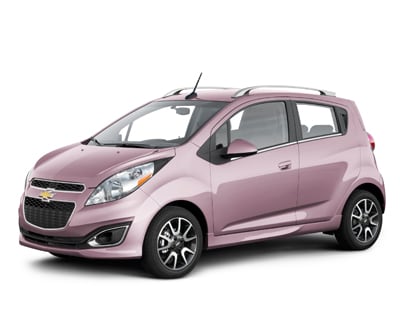 While ranchers are ranging their pickup trucks all around the county and den mothers are hurrying the family SUV up and down the suburbs, urban-nauts, those stressed-out dwellers deep in the heart of the city, are just trying to find a parking spot. The automotive needs of people in large cities sound plainly un-American. To them, the smaller, more nondescript and unobtrusive a car, the better. If it doesn't have to go to the overpriced inner-city gas station often, better still. And if it can haul several adults on occasional trips to the outer society, it's everything an urban-naut can ask.
Carmakers like Chevrolet have offered a long, mildly successful cavalcade of small cars, but nothing as small as the Chevrolet Spark, which is a genuine mini car two inches shorter than a Mini Cooper. Chevrolet isn't expecting to sell millions of Sparks in the U.S., but it has already sold 600,000 of them in the Spark's true home market, Korea, and neighboring Asian countries. Built in Changwon, Korea, the Spark is popular in the Far East, where getting the most out of a pint of gasoline, providing four adult seats and taking up minimal space is considered brilliant citizenship.
Spark's overhead costs for design and development have already been paid up. But Chevrolet believes there will be a sampling of Americans who are curious about this fairly extreme little car. It uses a tiny 1.2-liter four-cylinder engine, weighs a miniscule 2237 pounds, and gets EPA-rated 38 mpg Highway fuel mileage, which is both very good, and in these hybrid-aware days, not spectacular.
What is spectacular is the Spark's upright, one-box package. It allows ample seating for four adults in this very concise five-door. (If you look at the pictures and see only front door handles, the rear two are hidden in the rear trim.) Rear-seat passengers will not want to ride all the way to Patagonia in a Spark. There are limits. But if you replace these two passengers with supplies, the rear seats fold down, providing 31 cubic feet of storage, enough for all the inner-city Nathan's hot dogs you need on the trip.
By comparison with the Smart two-seater of a few years ago, the Spark actually is smart. Spark offers infinitely greater interior space and practicality, combined with a surprisingly good driving package. Spark corners with unexpected aplomb, stops straight and true, and accelerates with a willing spirit that makes it fully competitive in the inner-city grand prix. Entering onramps and merging with freeway traffic requires planning ahead but no more than with any other vehicle that takes 11 seconds to reach 60 mph.
All in all, the Spark is an interesting small car for special tastes, special needs, and a trim budget between $14,000-$17,000. Equipped with all the mandated airbags and a number of additional advanced safety provisions, it might be just the right choice as an urban guerrilla, a college car or a first-ever new car. What its low price delivers is a surprisingly spirited, useful entry-level five-door/four-seat sedan.