2013 Chevrolet Spark Summary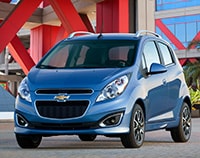 The Chevrolet Spark is a contradiction; a minimalist car that is so well furnished with contemporary content that maybe only very young urban-nauts will understand it. On the other hand, this is a fully competent mini-car that will satisfy very sophisticated needs for people whose primary automotive concerns boil down to parking where no one else can and escaping the city when no one else is looking. The Spark is automotive whimsy at an attractive bargain-basement price.
Ted West filed this report to NewCarTestDrive.com after his test drive of the Spark LT around New York City.