2013 Chevrolet Spark Walk Around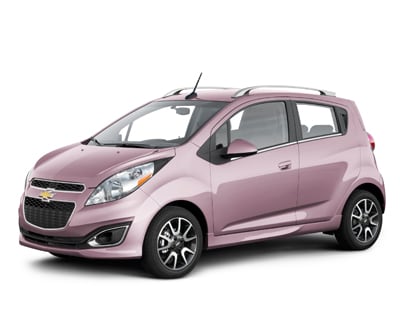 Chevrolet Spark's exterior exhibits the mildly zany styling of all mini cars. Which isn't to say it's unattractive. It has a fresh look, with rakish character lines and forward-thrusting side-window forms that lend it a dynamic-at-any-cost appearance. A big, gaping grille, accompanied by the Chevrolet-trademark second overhead grille port, make a no-nonsense statement. The drastically slanting headlight boxes are a similarly dramatic designer gesture. These are matched by the bulbous twin taillight complexes. Wowsie styling is required procedure at World Car Central. The practice always has the purpose, of going far out of its way to disguise the undisguised fact that this is a short, tall four-wheeled box. The Spark's looks are two parts bravado, two parts fun.
As an Asian-born world car, Chevy's Spark is furnished with diminutive 14-inch wheels, but it's been dressed up for America with big (at least, bigger) 15-inch wheels. These alloy wheels are dressy and handsome, giving the vehicle a deluxe gleam.
To grasp the Spark's real-world scale, it's eight inches narrower and three feet shorter than the Chevrolet Cruze. Put another way, it is five inches shorter than a Fiat 500, yet it has four doors and four full-sized seats, as neither the Fiat 500 nor the Scion iQ do. In its segment, the little Chevrolet is number one in space efficiency.
To stay in tune with the Spark's playful character, it's available in a bright pallet of finishes that will make it stand out wherever it goes. Among these are Salsa, Denim, Lemonade, and Techno Pink. Our test car was a brilliant red Salsa, which seemed to make everyone who saw it happy. One particularly winsome mannerism of the Spark is that this exterior paint is carried into the car's interior. Our dashboard was bright red and gleaming.
Spark comes with dressy looking luggage racks on its roof for strapping down what won't fit inside. As elsewhere in this little world car, its luggage racks are a practical and unexpected inclusion, and crossbars are available.
Interior
The first impression of the Spark's interior is inevitable; and then it's not. This is a low-priced car, but its interior is not cheap. The controls, dashboard and interior environment are winsome, bright and made of good materials. The first and most startling thing you notice adjusting the steering wheel's height (there is no telescoping adjustment) is that the entire instrument cluster is mounted in a motorcycle-like oval matrix that moves with the steering column. This is excellent, because no matter where you adjust the wheel, your view of the instruments will not be obstructed.
The speedometer is minimalist but entirely legible. An electronic tachometer is located to the right in the form of a circular trace that curiously has no redline. This space is very busy, containing a fuel gauge in a vertical trace and an information center that delivers average mpg, trip time, trip mpg, trip miles, range and average speed. Very complete for such a car.
The wheel itself is small, sturdy, very nice. It contains cruise control tabs on the left of the hub, audio channel change tabs and, yes, a phone control on the right hub. Audio volume on two separate tabs is located conveniently behind the front two audio tabs. Well done.
The wiper controls provide the full range of intermittent, low and high frequency, as well as the safety of a rear wiper for the large, near-vertical back window. The latter is indispensable in such a configuration. The running lights do not include an Automatic option, one of the few conveniences the Spark lacks. But the climate control system is first-rate, using big, easy-to-use radial knobs for fan level, as well as controls for front and rear window defrost and heat and cool. Straightforward and flawless. The German luxury brands could learn from this elegant simplicity.
The Spark 2LT we drove had a handsome 7-inch full-color MyLink touch-screen infotainment system that is a startlingly advanced component in all LT models. Our unit did not include a navigation system, though Chevrolet says an app will be available late in the Spark's first sales year. MyLink provides excellent graphics, and a touch of the screen dials-in the audio system, though the targets on-screen for dialing the volume up or down demand too much marksmanship while driving. The same controls on the steering wheel, however, handled the same duty painlessly.
The audio was surprisingly good for this class of car. The additional capabilities of the system, in meeting the needs of advanced inner-city connectivity mavens, were very powerful. In addition to AM/FM, XM/Sirius Satellite Radio and a digital clock, Bluetooth streaming audio for music and selected phones is available, voice recognition is available for compatible phones, and compatible apps for Pandora and Stitcher are supported. OnStar is also available, with collision notification, a good safety feature.
Perhaps the Smart interior's most startling characteristic, however, is how roomy it feels despite its very small exterior package. The front seats give quite good lateral support and snugness. Upholstered in black leatherette, with high-back design and adjustable head restraints, the seats were not quite sporty. And even leaving space for a six-foot two driver, the left-rear seat had plenty of comfort space for an adult. The rear seats, however, were flat, hard and not very comfortable over the long haul. Yet even with the rear seats in place, a small grocery-storage space was available behind the back seats.