2013 Chevrolet Tahoe Introduction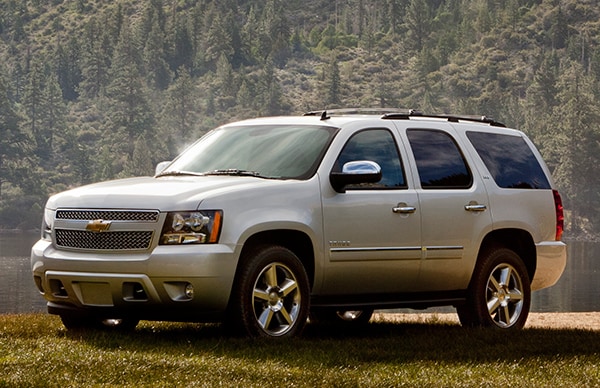 Chevrolet Tahoe offers good towing capabilities and can haul up to nine passengers or two passengers and a mountain of cargo or anything in between.
Inside, the first two rows offer legroom and head room comparable to most sedans but more shoulder and hip room because of Tahoe's six-and-a-half foot width. Fold the second row of seats and remove the third row and the Tahoe offers nearly 109 cubic feet of cargo space.
Towing capacity is up to 8,500 pounds. Based on a platform similar to the Suburban and Silverado models, the Tahoe makes a stable rig for pulling trailers.
With its rigid chassis, the Tahoe feels taut for its size, steering is precise and responsive, and the brakes are capable and smooth. The ride quality is generally smooth, even with the available 20-inch wheels. At highway speeds, we found the Tahoe quiet and comfortable.
Engine choices are a pair of 5.3-liter V8s that feature GM's Active Fuel Management to save gas; you can't even feel the switch between four and eight cylinders, which generally occurs with your foot off the gas or steady-state cruising. The major difference between the two engines is that one has a cast-iron block and the other an aluminum block; each delivers 320 horsepower, is matched with a 6-speed automatic transmission, and provides all the power and performance most customers will need. The engines are also E85-compatible, which means they will run on 85-percent ethanol fuel. EPA fuel economy ratings (on gasoline) are 15/21 mpg City/Highway.
The Tahoe Hybrid has a 6.0-liter V8 of 332 horsepower and a two-mode hybrid system, and works seamlessly. It offers drastically improved urban fuel economy and slightly more power compared to other models, but tows less, weighs more and costs more. The Hybrid model provides an answer for those who spend the week in city traffic but want to tow up to 6,200 pounds and bring the family on the weekend. EPA ratings for the Hybrid are 20/23 mpg City/Highway.
The available Autotrac four-wheel drive can be left engaged on dry pavement and includes low-range gearing. It comes in handy for rugged terrain and serious snow and ice, but it's also handy for yanking a boat up a slippery boat ramp or pulling a trailer out of a silty, sandy parking area, those momentary needs that can be so crucial.
Changes for 2013 are essentially limited to two new colors. The current-generation Tahoe was launched as a 2007 model.