2013 Dodge Challenger Introduction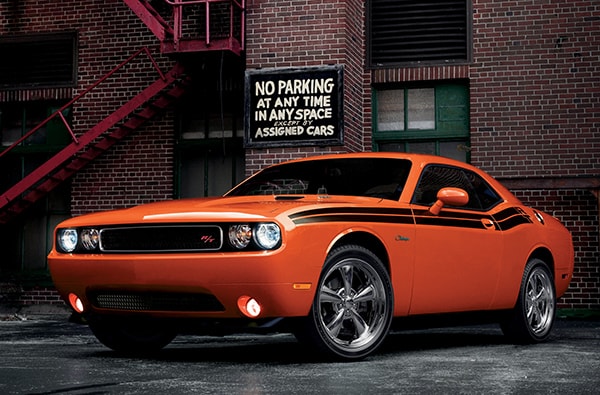 The Dodge Challenger brings muscle car performance and styling to everyday driving. It's an enjoyable car to drive. The Challenger harkens back to 1970, and the current generation, launched as a 2008 model, amuses and delights us. The 2013 model year brings a new Rallye Redline appearance package, updates to the optional navigation system and, for the top-performing SRT8 392, standard launch control, three-mode adaptive damping, and five new paint colors.
The base Challenger SXT comes reasonably well equipped and gives you the Challenger look and room for a modest price. Its 3.6-liter Pentastar V6 produces 305 horsepower and 268 foot-pounds of torque. But the Challenger is a big car, so even with a 5-speed automatic fuel economy is not its forte: Challenger is EPA rated 18/27 mpg City/Highway.
The Challenger R/T rumbles with a 5.7-liter Hemi V8. The V8 is rated at 372 hp and 400 pound-feet of torque with the 5-speed automatic, or 375 hp and 410 pound-feet of torque with the standard 6-speed manual. The Hemi uses a multiple displacement feature that switches off cylinders to save fuel, but EPA ratings are no better than 16/25 mpg. We think the Challenger R/T is a sweet spot in the lineup. It can be used as a daily driver with less intensity than the SRT8 (and considerable cost savings) yet it's sportier and more fun than the SXT. Challenger R/T is often compared with the Mustang GT and Camaro SS, although Challenger is a bigger car and a more comfortable cruiser.
The Challenger SRT8 392 is named after its Hemi V8's cubic-inch displacement (even though it's actually 391) and that of the legendary Hemi 392 engine of the late 1950s. The 2013 Challenger SRT8 392 comes with a 470-hp 6.4-liter Hemi V8 that also uses cylinder deactivation technology. EPA ratings are 14/23 mpg. Additional features include a heated steering wheel, three-mode adaptive damping and launch control. The SRT8 also comes with big Brembo brakes, the firmest suspension and a limited-slip rear differential. We found the SRT8 392 fast and stable. It's ready to go to the track yet we think it's compliant and controlled enough that it you can drive it daily or just for weekend cruises.
The Challenger is an enjoyable muscle car. Driving it brings a smile to our face and it seems to light up others as well. Everyone seems to like the Challenger. We've driven all the models and like all of them. They all have their own merits but there are distinctions.
The cabin is mundane. Like muscle cars of the past, the Challenger is based on a sedan (the Charger) and the interior borrows heavily from existing materials. The 392 sport seats hold you in place in corners and are designed to accommodate large drivers. Climbing into the back seat is a chore but once in we found it's fine for children, teens and the occasional adults.