2013 Dodge Grand Caravan Driving Impressions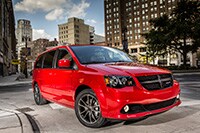 Minivans tend to generate pages of notes on the interior but little on driving impressions. The Dodge Grand Caravan is a transporting machine, not a driving one. That said, beginning with the 2011 model Dodge made several changes to help rectify that.
The basic layout hasn't changed: The rear end is still supported by coil springs and a twist-beam axle steadied by a track bar. In other words, it's not an independent rear suspension, so it's not as sophisticated as the setups in some rivals, particularly the sporty Honda Odyssey. (A Trailer Tow Package includes self-leveling rear shock absorbers.) The ride height was lowered one inch for 2011 and the suspension was completely retuned, with firmer rates for springs, shocks, and bushings, front and rear. The steering was made quicker and more direct. Kumho Solus KH25 tires provide a bit more bite.
The result is that the latest Grand Caravans are more controlled than the ones Dodge built just a few years ago. The van still leans a bit in turns, but acceptably so, and it gathers itself quicker to head back in the opposite direction. It no longer feels like you're at the helm of a ship. And we haven't yet driven the Grand Caravan R/T model, which offers even sportier suspension settings.
The ride is still quite good, better in some ways. While drivers will feel more road imperfections, the ride is still quite supple and it won't jostle you or the kids over anything but the worst bumps. Better yet, the float and wallow that was too evident on earlier models is now long gone, as is the copious lean, so passengers' heads won't be tossed about with every flick of the steering wheel, stab of the throttle or push of the brakes.
The 3.6-liter Pentastar V6 delivers 283 horsepower. Fuel economy is an EPA-estimated 17/25 mpg City/Highway, or 20 mpg Combined city and highway driving. With E85, efficiency falls off to an ethanol-guzzling 12/18 mpg, according to the federal government, which subsidizes and mandates this inefficient fuel.
The 3.6-liter V6 is competitive with the other V6s in the class. It's smooth and quiet, offering decent punch from a stop and enough in reserve for passing. Add the towing package, and the V6 packs enough grunt to pull 3600 pounds. However, it doesn't feel as powerful as the 283-horsepower figure would suggest. This same engine feels stronger in the Jeep Grand Cherokee, which is based on rear-wheel drive.
We were disappointed with the 6-speed automatic transmission, which doesn't seem to communicate well with the engine or react well to the driver's right foot. That may be because it's tuned for fuel economy and producing good EPA numbers, rather than responsiveness. We'd prefer a better balance of power and efficiency. There's also a button to push for an even more fuel efficient operating mode. Obviously, that only exacerbates the situation.
A couple of safety options that are worthy of note. The Blind Spot Monitoring system uses radar sensors to detect vehicles in the van's blind spots and warns the driver with lights in the side mirrors or a driver-selectable chime that sounds like the seat belt chime. We found it worked well, but like similar systems offered by other manufacturers it can sometimes give false readings. We've never seen one of these systems not detect a car that was there, however. But we think it's still important to look before you change lanes. The blind-spot system is an additional aid, not a replacement for awareness.
The Rear Cross Path system is activated when the van is in reverse. It uses radar sensors to detect vehicles crossing behind the Grand Caravan and warns the driver with lights in the side mirrors and that same chime. The system won't detect small objects, such pedestrians, so it's still important to proceed slowly. It does, however, detect vehicles up to 65 feet away, and it is programmed to recognize the speed of oncoming vehicles and alert the driver only if they are traveling at a speed that could lead to an accident. So stationary and very slow moving vehicles probably won't register. We like this system. It works well and is a useful aid in crowded parking lots.