2013 Ford C-MAX Introduction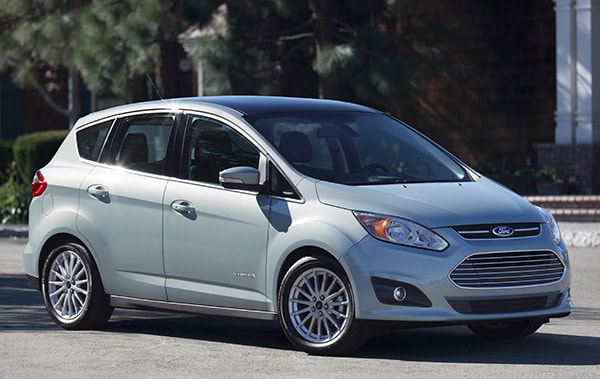 The Ford C-MAX is a five-door hatchback originally built for the European market and new to the U.S. for the 2013 model year. The 2013 Ford C-MAX comes in hybrid and plug-in hybrid versions, the latter dubbed Energi. (No non-hybrid version are available in the U.S. as there are in Europe.)
Built on the same platform as the Ford Focus, the Ford C-MAX Hybrid and C-MAX Energi plug-in hybrid, are powered by a 2.0-liter DOHC inline four-cylinder engine paired with a 118-hp, 88kW electric motor. Here's the difference: Ford C-MAX Hybrid uses a 1.4-kWh Lithium-ion battery, while Ford C-MAX Energi packs a hefty 7.6-kWh Lithium-ion pack. Gears are selected by an electronic continuously variable transmission (eCVT).
Ford C-MAX Hybrid is EPA-rated at 45/40 mpg City/Highway, those figures lower than the initial numbers. In general, hybrids are most efficient in the city, since stop-and-go driving uses the regenerative braking system more frequently to help charge the battery.
Ford C-MAX Energi Plug-in Hybrid is rated at 44/42 mpg. The Energi Plug-in Hybrid is EPA-rated at 100 MPGe Combined miles per gallon equivalent. According to Ford, it has a top speed of 85 mph. It can drive up to 21 miles in electric-assisted mode, and can go up to 620 miles with a fully charged battery and a full tank of gas. This beats the Toyota Prius plug-in, which has a six-mile all-electric range and 540-mile total range.
Like something out of a sci-fi movie, the C-MAX can learn frequently driven routes and will automatically adjust its settings to maximize efficiency. Ford engineers developed this feature, called EV+, which uses the car's built-in GPS and proprietary software to adjust how battery power is used. For example, if the vehicle is nearing a frequent destination, it will remain in electric-only mode to save fuel.
Charging times for the C-MAX Energi are about seven hours with a traditional 120-volt household outlet, and about 4.5 hours with a 220-volt Leviton fast charger. The latter must be purchased separately and is available at Best Buy stores.
Its layout and design makes the C-MAX versatile enough for commuting or weekend road trips. There's a 60/40-split rear seat that folds completely flat, creating more room for cargo. However, because of its battery, the C-MAX lacks the trunk space of most gas-powered compact sedans. The hybrid offers a fair 24.5 cubic feet behind the rear seats, yet, the Energi offers a mere 19.2 cubes. Optional is a handsfree liftgate, first found on the Ford Escape, that allows anyone with the key fob to open the hatch by simply waving a foot underneath the back of the vehicle.
Versions of the C-MAX equipped with navigation use the latest version of MyFordTouch, which has improved since the last generation but can still be irksome to use. Still, there are some handy features, like charging station location information on the C-MAX Energi. But, unfortunately, it's not possible to tell in advance if those stations are already occupied. Once the C-MAX Energi is plugged in, however, Ford's software can alert drivers via text message if the charge is interrupted, foiling any potential plug stealers.
Competitors to Ford C-MAX are few and far between. Alternatives to the hybrid include Honda Insight, Toyota Prius and Prius v wagon. Plug-ins that rival the C-MAX Energi are currently limited to the Chevrolet Volt and the Toyota Prius plug-in. Because the federal tax credit for hybrid and electric vehicles is currently calculated according to battery size, the C-MAX Energi is awarded a higher federal tax credit than does the Prius plug-in.