2013 Ford C-MAX Summary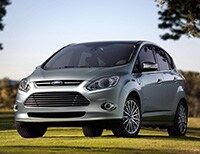 The Ford C-MAX offers versatility, practicality and efficiency in two fuel-saving variants. Though hybrids and plug-ins continue to come with a high price premium, the C-MAX's superior range and tax credit eligibility make it a good value in the segment.
NewCarTestDrive.com correspondent Laura Burstein reported from San Francisco after her test drive of the Ford C-MAX.