2013 Ford Escape Walk Around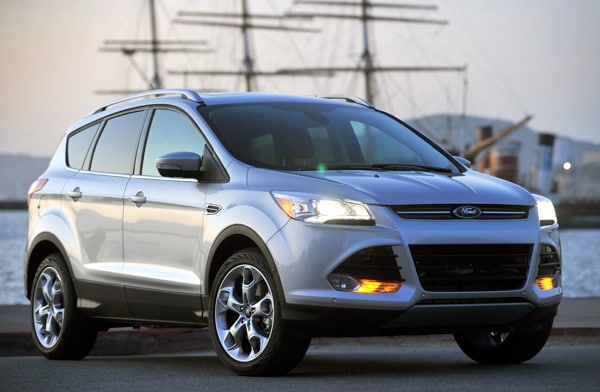 There's no mistaking that the 2013 Escape is a new car, and it's got the blue oval in its wide narrow grille to say it's a Ford. Its nose is more like little sister Focus, rather than big brother Explorer. Aero and almost stubby, looking like it's meant for the business of efficient hauling. Character lines on the hood suggesting a cowl. The headlights are sharply angled under sheetmetal speed lines like eyebrows, and sweep back and up into the muscular wheelwells.
The bottom two-thirds of the face is a gaping black mouth in split fascia. It conceals a Ford innovation, sensor-controlled shutters behind the grille that regulate air into the engine for optimum efficiency and maximum fuel mileage.
The rear end doesn't keep up with the new slick front. It looks big and bulky for the size of the car, with lines going in three directions; it's as if the sheetmetal were shaped to match the taillights, including the indent for the license plate, like an upside-down triangle with the point at bottom chopped off. The standard dual exhaust is cool with the pipes back there, but the cladding in gray looks like a big silver lump hanging out the back.
But there's something hiding under that cladding that's great. It's an option that opens or closes the wide liftgate (low liftover height) with a small kick of your foot under the rear bumper, using a seeing-eye like the one that flushes toilets in public rest rooms (Ford press materials call it video-game technology). Hands-free technology where you need it most. With the Escape you'll never have to set down your armsful of groceries to put them in the back. It's a first we like, and would buy.
We also like that overall on the three models, there's lots of black eggcrate and not so much chrome. Don't like so much the gray or black plastic cladding that surrounds every model. The 19-inch alloy wheels try way too hard to look out there, while the steel 17s on the base SE are the least ugly.
Interior
The rugged fabric seats are the best! And since the available MyFordTouch remains problematic (we'll get to that), those excellent seats open the door to happy purchase of the S model. If you have good standard seats, you can live without options that just cost money and complicate operation of the car.
The driver's throne is good, with a high seating position, excellent visibility all around with that short hood, big back glass, and no over-the shoulder blind spots. Speaking of blind spots, the small convex mirrors in the upper corners of the sideview mirrors catch everything in the lanes at your rear quarter panels, more accurately than any electronic blind-spot warning system that constantly sends false alarms like they all do. But if your eyes just can't learn to read a convex mirror, the BLIS system is an option on the Escape, too. The best thing about it is that it includes Cross-Traffic Alert, which spots cars passing by your tailgate as you back out of a parking space.
The driver gets a nice dead pedal, comfortable armrests on both sides, and a good grab handle. Gauges are clean and attractive with pretty blue needles. Unlike the expensive Jaguar, Ford's rich former sibling, there are actual fuel and temperature gauges. There's a small rectangular window for information, scrolled through using arrows and a dial on the steering wheel, like all Fords, and like Jaguar, the shared switchgear remains.
The turn signal sound is a classy Jaguar-like dink dink dink. You can hear the soft sound because the Escape is exceptionally quiet. Great job, there.
A small shift lever is dropped down out of the way. There's a SelectShift button on the side of the lever, controlling manual operation of the automatic transmission. We've complained about this same button on the Mustang, only because paddles are needed on the Mustang for fast shifting; but on the Escape this thumb-button is just fine.
It's a good standard steering wheel, often a disappointment in base-level cars but not here. The four-spoke wheel is okay in base vinyl, with places for your whole palms at 2 and 10 o'clock, and the full array of controls. Overall, the interior materials are soft, and the plastic around the centerstack is high quality.
There's more cargo space in the rear, compared to the previous Escape, now totaling 68.1 cubic feet behind the first row and 34.3 cubic feet behind the second row. Legroom has stretched by 1.2 inches to 36.8, not a lot but maybe average for a compact SUV. Rear climate control is standard, except in the S. A center armrest with cupholders is available.
The best thing about the rear seats is how easily they fold flat, with one lever. Oh joy oh joy. There's an available two-position load floor, allowing a flat floor or maximum luggage volume.
It took a great deal of self-discipline to write our critique of MyFordTouch and voice command; we had to transcribe long rants from the tape recorder we use to make notes while we're driving. We'll try to keep the complaints brief.
MyFordTouch gives you 27 touch-screen buttons to choose from, when you're trying to adjust climate control, which is resistant to adjustment. From the subliminal brain's standpoint, that's 27 decisions to make. We COULD NOT get it to maintain a comfortable temperature. Set at auto 71 degrees, it blew cold air with too much fan. We increased the setting to 74, and the temp remained the same, but the fan got stronger. We tried and tried, different ways, but it would not cooperate. All those buttons, each one requiring a decision and translation or interpretation. We gave up not knowing if the problem was with the setting or with the HVAC itself.
Next we wanted to tune the radio. At least there were only 18 touch-screen buttons to choose from. We tried many of them, to no avail, while we continued to be distracted from our driving. We noted with exasperation into the recorder, "All I want to do is get something to appear on this screen that enables me to change the channel."
OMG, there it was. We pressed an icon that looked like a terrier dog sitting there waiting for a milk bone. We had it. Because we had no idea how we got it, we lost it, and next time we wanted to change radio channels, it took us another 20 miles on the freeway.
Ford says these buttons are easy to press, but they aren't. The radio buttons are small enough that you have to really look, and use eye/hand coordination away from the highway; unlike with an old-school knob, there's no keeping your eyes on the road and grabbing the dial and turning it. With MyFordTouch (and all touch-screen systems like it, notoriously worse being Land Rover and Volvo), you have to look down and carefully aim your finger into a small little rectangle, and if the road is bumpy the car will bounce and your finger will quite possibly miss. Notice you don't see little buttons in race cars.
Of course, there are audio controls on the steering wheel, and we've found them to work better, once you figure them out. But we're talking about MyFordTouch here.
They say the screen is carefully designed. But 40 percent of the screen is taken up by black space, wasted. Two-thirds of the rest is taken up by nothing more than the logo for the radio station, then twice it says the name of the show. And then a word that says ALERT. Set alerts, refresh alerts, edit alerts, enable all alerts, who cares; we'll alert you when we want to be alerted. The back button is a tiny little button on the top of the screen. It should be on every page but it's not, so you can't keep going back and trying again to find something that works. It's a dumb design.
Soon the audio completely stopped working. While the screen indicated we were turned to the NASCAR station, we were getting static from FM-land. We pressed SIRIUS again and got FM again. Maybe it was the Cascade Mountains over our shoulder, who knows. And then the heat seemed to come on by itself.
We messed with it constantly, trying to get what we wanted during a day trip into the city, 50 miles each way. We gave Voice Command a shot.
"Air condition on," we said, at 65 mph. Apparently it doesn't speak our language, only Ford's, because it replied, "Please say a command." It immediately referred us to an 800 number and a URL. Like we're supposed to write them down without crashing? But we cooperated, and tried again, saying, "Temperature 69 degrees." It responded by giving us a bunch of advice, and reminding us we could get the phone to work and other things we didn't write down. "Please say a device," it said.
We said … "Climate?"
It said, "A list of valid voice commands is now on the screen." We took our eyes off the road and studied the list.
"Sixty-nine degrees," we said, so clear and slow you could hear the condescension in our voice.
"Eighty-nine degrees is not a valid command," it said.
We tried three more times, and got nothing but backtalk from our Ford. We asked in exasperation, "What can we say?" and the screen responded with a list of all the nearby gas stations with their prices for fuel. Cool. Except what we wanted was to listen to the radio station of our choice at the temperature of our choice.
It may be that our description and experience here is all wrong, because we didn't operate it correctly. If so, that's the point. We have compared our experiences with MFT and Voice Command (not just Ford's, but all of 'em) with many others, and we are not alone.
The good news is that if you get the entry-level Escape S model, you won't get MyFordTouch, and you won't ever be verbally abused by Voice Command unless you ask for it. Or you can just avoid using Voice Command.