2013 Ford Flex Introduction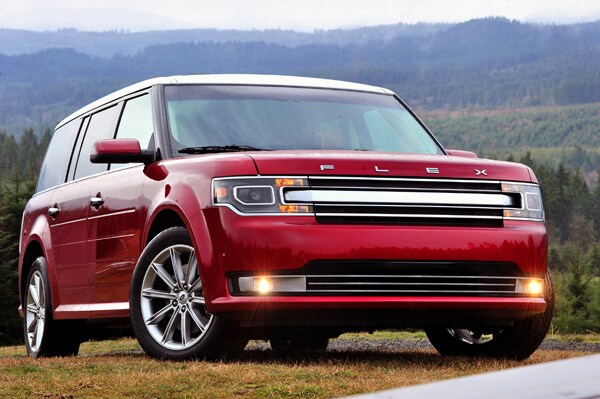 Substantially upgraded for 2013, the Ford Flex is an innovative vehicle, and the only full-size car of its kind. The Mazda5, a distant cousin, is the same people-moving type of vehicle in the midsize class, but the larger and smoother Flex is in a field of one. Ford says that among all its cars, the Flex has the highest percentage of return buyers, at 67 percent. And 45 percent of Flex owners are women.
With standard seating for seven in its 2-3-2 configuration (optional 2-2-2), the Flex is all about people. Except when the seats fold flat, as they easily do; then it can be all about cargo. Because Flex is not built on a rugged body-on-frame chassis, it's not like an old-school SUV. Nor is Flex like a van. At first Ford called it a crossover utility vehicle, but now Ford has decided that the term is unclear, so the latest official word is that it's just a utility vehicle. We'd call it a superb cross between a limo and a taxi. If you have a spouse and four or five kids who like to travel to distant places including snowy mountains or desert sands, the Ford Flex can't be beat.
All-wheel drive is available for wintry conditions.
The Ford Flex looks like a stylish box. The hood and roof are long and flat, the windshield stands relatively straight, the side and rear glass is flat, and the corners are sharp, although the front end has been rounded a bit for 2013. The shape is honest, simple, and even elegant, for a box. It suggests interior room and maximum space utilization. It has presence and upscale cues that some might call bling. It's not shy. The grille and tailgate have been redone for 2013, with a chrome or satin aluminum band, but frankly we can't say that's an improvement over the old three bars and signature blue oval.
There are substantial improvements for 2013. Most notable is a revised V6 that comes standard on the base 2013 Flex SE and 2013 Flex SEL: For 2013, the 3.5-liter V6 engine delivers 25 more horsepower, to 287 hp (with 254 foot-pounds of torque at 4000 rpm), while gaining 1 mile per gallon, to 18 City/25 Highway, according to the EPA. This boost to the base 3.5-liter V6 is the result of new Twin Independent Variable Camshaft Timing, or Ti-VCT as Ford calls it. Ford continues to lead the way among American manufacturers in engine technology.
The full-tilt Flex Limited all-wheel-drive model uses the dazzling twin-turbo 3.5-liter EcoBoost V6 with 365 horsepower and 350 foot-pounds of torque at a super-low 1500 rpm, which gets just 2 mpg less than the base V6, or 16 City/23 Highway. We got 16.4 mpg running it hard for half a day, city and freeway but mostly two-lanes.
With the EcoBoost V6 you might find yourself at the limits of the suspension. Even though the springs and dampers were stiffened for 2013, our 2013 Flex Limited danced a lot during hard driving on rough and undulating two-lanes. But we also got good miles on an easy freeway and around town, and the Flex ride is smooth and composed. It's comfortable and doesn't feel firm. The cabin is silent and steady. It's a pleasure to drive.
We loved the seamless 6-speed transmission shifting and programming, and the ergonomics of the perfectly designed paddles, on the Limited. The same automatic transmission on the Flex SE and Flex SEL models is manually shifted with a small thumb button on the side of the lever, and the ergonomics of that setup were poor, demanding a cocked wrist and raised elbow.
The interior has been revised for 2013, with a new and beautiful instrument cluster, steering wheel, seats and trim; and there's been a total revamp of the previously problematic MyFordTouch electronic controls. The 2013 Flex interior looks full, spacious, and luxurious. The basics and details are well covered. Materials, plastics, fabrics, leathers and carpets are well matched with textures, and sheen is nicely controlled. The visual impression is upscale comfort and luxury, more Lincoln than Ford.
The cabin is exceptionally quiet, as there's been a lot of work on sound deadening on the new 2013 Flex, for example liners in the wheelwells.
The 2013 Ford Flex comes with a new brake system. We used the brakes hard on curvy two-lanes, and we loved the responsiveness and pedal feel. There's also new electronic power steering with a quicker steering ratio. Although the Flex is no sports sedan, the cornering is impressive for a vehicle like this, with fairly high limits.
However there's more to that than the tightened steering and suspension. For 2013, there's also new Torque Vectoring and Curve Control technology. More typically found on high-performance cars, Torque Vectoring uses the brakes to imitate the effect of a limited-slip differential, balancing torque between the front wheels during cornering, resulting in better grip and reduced understeer. Curve Control is like electronic stability control, only quicker; it senses when a vehicle is entering a curve too fast, and applies the brakes to individual wheels to cut the speed by up to 10 mph in one second. Think freeway on-ramps or off-ramps, especially in the wet.
If those safety features weren't enough, the 2013 Flex is available with the automotive world's first production rear inflatable shoulder belts, designed to offer improved comfort and protection for rear-seat passengers. The advanced restraint system is designed to help reduce head, neck and chest injuries for rear seat passengers, often children and older passengers who can be more vulnerable to such injuries.