2013 Ford Fusion Driving Impressions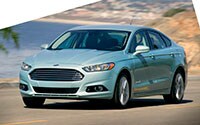 The Fusion feels like a big car on the road as well as in the cabin. In its turbocharged 1.6-liter iteration, the Fusion provides decent, albeit docile acceleration. For more oomph, go for the 2.0-liter turbo.
Steering is light and comfortable, and the 6-speed automatic transmission shifts in all the right places. Titanium models are equipped with paddle shifters for manual gear changes. Brakes are smooth and confidence-inspiring.
Thanks to its electric motor, the Fusion Hybrid offers plenty of pep off the line. The electronically controlled CVT is smooth and seamless, and brakes are firm and responsive, without feeling grabby like many vehicles that use regenerative systems. Its low, grumbly sound is rather unpleasant, however, despite Ford's attempts to muffle it with acoustic material.
Handling is solid and comfortable, and on par with our expectations for a midsize family sedan. Although, the Fusion doesn't feel as nimble as other cars in its class. We had an embarrassing moment when we were forced to make a three-point U-turn at a stoplight on a major city street to clear two lanes. The Toyota Camry, in a subsequent comparison drive, felt more maneuverable and got us around in one fell swoop with its 36.6-foot turning circle. Still, the Fusion's turning circle of 37.7 feet bests the Accord's girthy 38.1 feet.
Fusion SE models with the 1.6-liter engine can be equipped with an optional automatic stop-start feature to improve fuel economy. And like some of the other stop-start systems on the market, the Fusion's feels invasive and annoying; some manufacturers have smooth systems. The car shudders when it turns the engine turns off, and shudders even more when it turns back on.