2013 Ford Fusion Introduction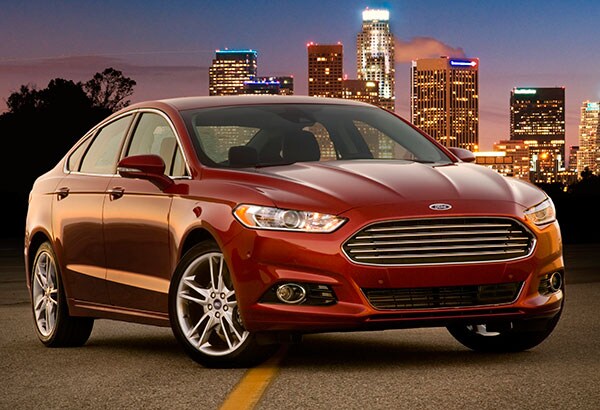 Ford Fusion is all-new for 2013. When the wraps came off the 2013 Ford Fusion at the Detroit auto show, even jaded auto journalists were dazzled by the midsize four-door's stunning good looks. Like the love child of an Aston Martin and a BMW, the all-new Fusion sports a wide grille with strong horizontal lines, sleek wraparound headlamps and sharp, assertive creases.
The 2013 Ford Fusion is a five-passenger, midsize sedan. Front-wheel drive is standard; all-wheel drive is optional.
The 2013 Fusion is available with a wide range of powertrains, including gasoline, hybrid, and plug-in hybrid variants. The old V6 engine found on the previous Fusion is gone, replaced by a plethora of four-cylinder choices: Standard is a 2.5-liter four-cylinder engine rated at 175 horsepower that carries over from the outgoing model; though least expensive, the 2.5-liter engine is the least-efficient choice.
Two new engines debut for 2013 that are much more efficient: a turbocharged 1.6-liter four-cylinder EcoBoost engine that makes up to 178 horsepower, and a turbocharged 2.0-liter four-cylinder that churns out 240 hp and 270 pound-feet of torque. The 2.0-liter turbo delivers the best acceleration performance. Fuel economy is aided by sticking with smaller engines, as well as by incorporating systems such as electric-assist power steering, and an optional automatic Start/Stop feature on models equipped with the 1.6-liter Ecoboost engine. We found the Start/Stop feature irritatingly rough but it can be turned off.
The standard 2.5-liter engine is EPA-rated at 22/34 mpg City/Highway. Models with the new 1.6-liter engine achieve 25/37 mpg City/Highway with the manual transmission and 24/37 mpg with the automatic. The new 2.0-liter turbo is rated 22/33 mpg.
The Fusion Hybrid model pairs a 2.0-liter four-cylinder with an electric motor and an electronically controlled continuously variable transmission (CVT). It's good for a maximum of 188 net horsepower, with fuel economy rated at 47 mpg City and Highway (yes, that's 47/47 mpg).
The Ford Fusion Energi is plug-in hybrid that uses the same 2.0-liter four-cylinder found in the Fusion Hybrid along with an electric motor and lithium-ion battery pack. Fusion Energi is designed to run on pure electric power for short commutes and can be charged using a 120-volt or 240-volt outlet.
The 2013 Fusion is built on an all-new platform, which Ford says is more rigid and safer than before. Although classified as midsize, the 2013 Fusion feels large and cavernous. This second-generation Fusion rides on a wheelbase that's about five inches longer than the first-generation version (2006-12), but overall body length is only an inch longer thanks to shorter overhangs. The 2013 Fusion is also an inch wider and taller than before.
Our test drive revealed solid handling and a comfortable ride, although the Fusion doesn't feel as nimble as other midsize sedans. Fusion feels big while driving, and a U-turn requires of plenty of space, although the turning circle was cut down a bit from the previous generation and beats that of the Honda Accord. We found the Fusion Hybrid operates smoothly but didn't love the low, grumbly sound it makes.
Technology abounds in the 2013 Ford Fusion. It offers the latest version of Sync and MyFord Touch, the touchscreen interface that is much improved from its previous generation, although still wonky. Optional advanced safety features include adaptive cruise control, blind-spot detection and lane-keeping assist, which helps wandering drivers stay in their lanes. The Fusion also offers active park assist, a feature normally found on high-end luxury cars, which scans parallel parking spaces and automatically maneuvers the car in on its own.
The 2013 Ford Fusion debuts at a time when competition between midsize sedans is tougher than ever. If you're motivated by sleek, European-inspired looks and a wide choice of powertrain options, the 2013 Ford Fusion is one of the best choices out there. But other automakers have launched all-new flagships this year, including the 2013 Honda Accord and 2013 Nissan Altima. The Toyota Camry was refreshed for 2012 and remains a perennial favorite. The Hyundai Sonata is also an excellent alternative, although even its alluring styling can't top the Fusion's.