2013 Ford Fusion Walk Around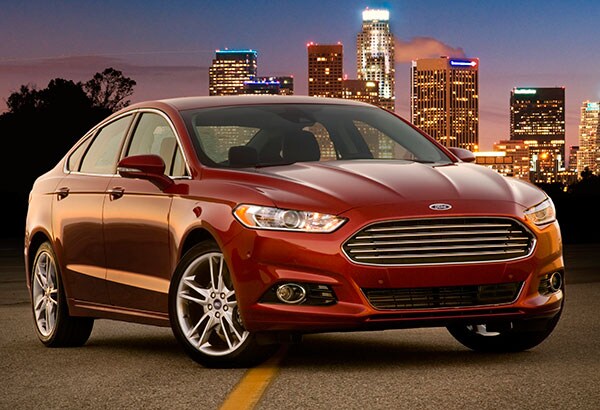 The exterior design of the 2013 Ford Fusion is by far one of the most striking among non-luxury vehicles. Its wide-mouth horizontal grille evokes the design language of Aston Martin (which, for a time, was owned by Ford), and its wraparound headlamps and sharp body creases could have been penned by designers from a luxury German brand. Ford succeeded in making the car look high-end and modern, with styling cues that are aggressive but still approachable. Look carefully though, and you'll see places where it appears engineers had to shoehorn the inner workings to fit the design, such as the large gaps between the hood seams and the windshield.
Although the Fusion is classified as midsize, it looks and feels large. It rides on a wheelbase that's about five inches longer than the old model, although overall body length is only an inch longer, thanks to shorter overhangs. The 2013 Fusion is about an inch wider and taller than the last generation. Still, these growing dimensions aren't unusual, as the Fusion's measurements are very closely matched to those of the 2013 Honda Accord and 2013 Nissan Altima.
The base model comes with 16-inch steel wheels, which is disappointing considering the new Accord comes with alloys, and even some carmakers, like General Motors, are including alloy wheels standard on lower priced compact and sub-compact offerings.
Interior
Unless you're a pro wrestler or NBA player, you may feel swallowed up inside the Fusion. There's plenty of space up front for legs, shoulders and heads, and roominess is accentuated by concave door trim, which looks as if it were pared away by a giant potato peeler. Strangely, the narrow, body-hugging sport seats don't match their cavernous surroundings. Front seats sit low in the cockpit, and combined with the relatively high hood line, we had a hard time finding a comfortable seat height. On the plus side, the headrests sit at a surprisingly neutral angle, and don't force your head to tilt forward as aggressively as in some other vehicles.
In a nod to sustainability, the cloth seats that come standard on the Fusion Hybrid and optional on the SE are made from 100 percent recyclable materials, and the seat cushions and head restraints use a polyurethane foam that Ford says is derived from the oils of plant seeds, including soybeans. They had a slight sheen, and reminded us of dressy twill pants one might find at Banana Republic. Leather on the Titanium trim is nice, but not buttery soft.
Materials and finishes on the dash and upper portions of the doors and dash are straightforward and attractive, but ragged edges along the top seam of the map pockets make it appear that someone forgot about the lower half of the car. Also, we noticed a layer of what appeared to be sound insulation material peeking out from the space between the instrument panel and the windshield. Ford representatives pointed out that we were driving pre-production vehicles, so we're not sure whether these peculiarities will end up on the showroom floor.
The center stack on base models uses manual climate control knobs that are easy to see and are well laid out. On models equipped with the MyFordTouch interface, climate and other functions are adjusted via touchpad controls, which we found were not always accurate or responsive. In fact, while we liked the look of the 8-inch touchscreen display, we were often frustrated while using the MyFordTouch interface. The driver's instrument cluster is modern and good-looking, with a pleasing illuminated blue needle on the speedometer. An optional dual LCD display allows drivers to toggle through a variety of functions. One nifty feature is the overhead interior lighting, which you can turn on and off with the swipe of a finger.
The steering wheel feels fine in hand, and is equipped with a plethora of buttons for vehicle information and settings, volume and audio input, cruise control, handsfree phone operation and voice activation. It can be distracting to find everything at first, and takes some time to memorize.
Rear seats are comfortable, with adequate leg and knee room. Headroom clearance is good for passengers up to about six feet tall. There is somewhat limited toe room due to what we guess is a variety of wires and electronics stuffed under the front seat. Adjustable headrests are comfortable for passengers, but can interfere with rearward visibility.
The 2013 Fusion offers 16 cubic feet of space, which is slightly more than its competitors: Camry and Altima each offer 15.4 cubic feet, and the Accord measures 15.8. (The new Fusion offers half a cube less than the outgoing Fusion.) The battery pack in the Fusion Hybrid cuts down significantly on trunk space to 12 cubic feet, and creates an odd, high shelf in the back half of the cargo area.