2013 Ford Mustang Summary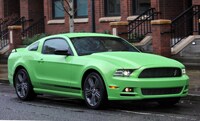 With 11 models ranging from 305 hp and about $23k to 650 hp and $60k, if you like Mustangs at all, there's one for you. The entry level Mustang V6 Coupe with a manual 6-speed transmission is a big winner for the price, and with a few options it can be made better than any muscle car of old. The Mustang GT with its 5.0-liter V8 is the rumbling Mustang we all know and love. The Boss 302 and Shelby GT 500 are 21st century muscle cars, both offering tremendous performance for the price.
Sam Moses filed this NewCarTestDrive.com report after his test drives of the Mustang models along the Oregon coast.