2013 GMC Acadia Introduction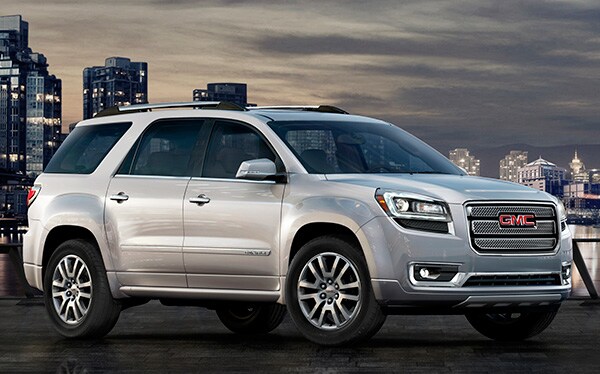 The GMC Acadia can seat seven or eight and haul a big pile of cargo. Acadia has been updated for the 2013 model year.
For 2013, the front and rear styling has been refreshed, the entertainment systems update and fitted with color touch-screens, mechanicals retuned for smoother operation, an airbag between the front seats added to all but base models, rear park assist and camera are now standard, and a blind-spot warning system appears on top-line versions.
Inside and out, the Acadia is similar in size to the GMC Yukon and Chevy Tahoe. It's more refined, offers sharper handling, and gets slightly better fuel mileage than a full-size SUV, however. A crossover, it's constructed more like a car than a truck, so it's a little lighter and has a more rigid body than a truck does.
Every Acadia comes with a modern 3.6-liter V6 engine of 288 horsepower, 6-speed automatic transmission, and front- or all-wheel drive.
The 2013 Acadia ranges from the rental-grade SLE1 to the luxurious Denali. The entry SL trim has been dropped. The GMC Acadia shares its basic structure with the Chevrolet Traverse and Buick Enclave. Acadia shoppers on tight budget should look to the Chevrolet Traverse. And if a Denali isn't fancy enough or you prefer even quieter and softer, check out the Buick Enclave.
Acadia delivers what most people want from a full-size SUV. The driver sits high off the ground and has a commanding view of the road. The Acadia can carry a lot of cargo. We found it seats six adults comfortably. Rear-seat DVD entertainment is available.
The only places where the Acadia falls short of truck-based SUVs are in heavy-duty towing or slogging through muck or over rugged terrain. Properly equipped, the GMC Acadia can tow 5,200 pounds, while a Yukon is rated to pull 3,000 pounds more. The Yukon is derived from the Sierra full-size pickup, so it has ground clearance, low-range 4WD and the chassis to regularly handle terrain unsuitable for the Acadia. But you may not need that capability. Acadia offers all-wheel drive for stormy or snowy weather, and it's fine for unpaved roads. That's plenty for most people.
On the road, the Acadia handles better and is smoother than a Yukon and other truck-based SUVs. It offers excellent driving manners, whether on country roads, rough city streets or pock-marked freeways. It smoothes bumpy pavement and takes corners in a reassuring manner for a large vehicle.
The 288-horsepower 3.6-liter V6 is responsive and efficient and supplies good acceleration. Its 6-speed automatic transmission is smooth and efficient, further aiding fuel economy.
Acadia comes with required safety equipment, including side-curtain airbags that provide head protection, side-impact airbags for torso protection and StabiliTrak electronic stability control and other active safety features that help the driver avoid accidents.
The GMC Acadia shares platforms with the Buick Enclave and Chevrolet Traverse. It was launched as a 2007 model; the 3.6-liter V6 was revised for 2009. For 2011, the Denali luxury model was added.