2013 GMC Sierra HD Introduction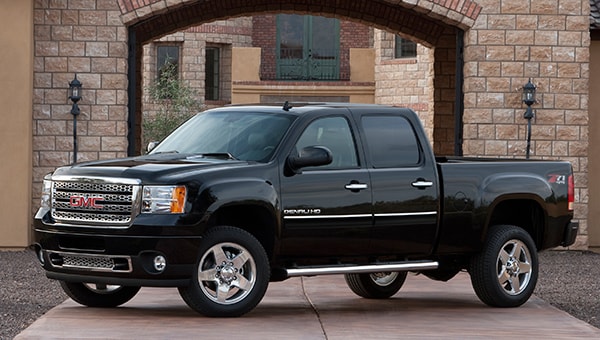 GMC Sierra HD heavy-duty pickups are well suited to real-world use and abuse. They can haul tons of brick and cement and tow the concrete pump, then turn around to be used for a night on the town or grocery shopping while the fifth-wheel's left in camp or the horses are in the corral. If your hauling happens once or twice a year or you tow a bass boat or ski boat, then the 1500-series may be better suited. If your load is heavy, however, or you do a lot of towing, the Sierra HD is the ticket, especially with the powerful diesel engine. We found it towed a 5000-pound trailer load like it wasn't there and a 15,000-pound trailer with ease.
A luxurious Sierra HD Denali model is available in both 2500 single-rear-wheel and 3500 dual-rear-wheel models. The 2013 Sierra HD Denali comes standard with heated and cooled front seats, leather-wrapped heated steering wheel and rear camera. Polished aluminum 17-inch wheels are standard on Sierra HD Denali duallies and are available on Sierra HD SLT duallies. Denali is GM's answer to Ford's King Ranch and Ram's Lariat Longhorn. The availability of the Sierra HD Denali gives the GMC buyer more a more luxurious option than is available to the Chevrolet buyer.
The GMC Sierra HD is built on the same chassis as the Chevrolet Silverado HD and shares all the sheetmetal, including the hood, with it. Different hood trim, lights, grille, wheels and ruby red badges distinguish the GMC from the Chevrolet.
Changes for 2013 are minor. Among them: The 2013 Sierra HD offers a bi-fuel CNG 6-liter gas engine on 2500 Extended Cab, and the 397-hp diesel is available on 3500 Chassis Cabs and pickup box-delete Silverado HDs. The GMC Sierra HD line of heavy-duty pickups was reengineered for 2011, with a new frame, new front and rear suspensions, bigger brakes, more powerful Duramax 6.6-liter turbo diesel and a luxurious new top-line Denali.
As with all heavy-duty pickup lines, the Sierra HD offers plenty of configurations with three cab styles, two bed sizes, single or dual-rear wheels and 2WD or 4WD. A 6.0-liter gasoline V8 is standard, rated at 360 horsepower in 2500 models and 322 hp in everything else. It isn't quite as powerful as the competition's gas engines.
The 6.6-liter turbodiesel with 765 pound-feet of torque (more than twice the gas engine's) is competitive with Ford's Super Duty at 400 hp and 800 lb-ft and Ram's 350 hp and 660-850 lb-ft. GM and Ford use 6-speed automatics in their trucks; Ram offers a choice of six-speeds, manual or automatic.
Sierra HD offers two distinct interior concepts, one bred for work, function and simplicity, the other emphasizing luxury and features over outright seating space. Almost anything you can get in a GMC sport-utility is available here, including OnStar, a subwoofer-equipped sound system, rear-seat entertainment, driver memory system, heated leather seats and a moonroof. For the entry price of around $29,000 you get a functional pickup with real load-carrying ability, but for big towing in a properly equipped diesel expect to pay much more. Options can add up quickly, the diesel engine ($7195) and its required transmission upgrade ($1200) among the most expensive.
The trick in buying the right GMC Sierra HD is to give fair consideration and choose wisely. Compute the permutations among three cabs, two weight classes, two beds, two engine/transmission combinations, two drive systems and four trim levels, and then sort out options that cover everything from a diesel radiator cover to rear park assist, and you can see why prices run from that base $29,000 to well past double it.