2013 GMC Yukon XL Driving Impressions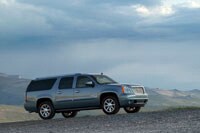 The GMC Yukon XL is perfect for outdoor sportsmen or owners of race cars, boats, horses, or travel trailers who need the people room or lockable cargo capacity of a full-size SUV instead of the open bed of a pickup truck.
GM's proven 5.3-liter Vortec V8 is the standard engine, making 320 horsepower and 335 pound-feet of torque; smooth and not too raucous, though not as torquey as the Expedition's 5.4 or Sequoia's 5.7-liter V8 which nearly matches the Denali 6.2's output.
The 6-speed automatic transmission does its job well, completely in the background until you choose manual control or engage the tow/haul mode designed for heavy loads. We would choose the no-charge 3.42:1 axle ratio if we planned on anything more than lightly-loaded flat-terrain highway cruising.
If you need more power for towing the Denali's 403-hp 6.2-liter V8 boasts 417 pound-feet of torque, but the extra power comes with a dent in fuel economy. However, Denali's tow ratings are the lowest of the XL and it has no 4WD low-range gearing. Any thoughts of economy with a big, heavy truck should be put aside; we've seen 7 mpg pulling a big boat with a 2500.
If you have a trailer of 6500-7000 pounds or more and plan on towing with the Yukon full of gear and people, best to consider the 2500 XL. It has a heavy-duty 6.0-liter V8 with less horsepower and torque than the 6.2-liter but adds stronger axles and transmission, stouter steering, suspension and brake systems and truck-service wheels and tires. It is for all intents and purposes a three-quarter-ton pickup with a nine-seat body on top. Also noteworthy to travelers, the 2500-series has much larger fuel capacity (39 gallons versus 31.5 gallons in the standard Yukon XL 1500) so its effective range matches or betters the 1500.
Active fuel management is standard on most engines. AFM shuts down four of the eight cylinders when they're not needed to save fuel. But at this size and weight all the cylinders are needed most of the time so the fuel saved is limited. A Yukon/Tahoe Hybrid or BMW X5, Audi Q7 or Mercedes GL350 diesel are the only three-row SUVs with decent fuel economy, and none of those is size XL though the GL's third row is competitive.
Ride quality in the Yukon XL is excellent, overall; nearly eleven feet between front and rear wheels pays dividends. Even when the optional 20-inch wheels are chosen, the suspension deals deftly with road imperfections and potholes but you feel them more. We prefer taller tires on our trucks, however, for ride comfort, impact resistance and in some respects, better performance.
The Yukon XL is very stable at highway speeds, though it wallows a bit on undulating freeways. Autoride, the rear self-leveling and active suspension, electronically adjusts to the road as read by sensors. It reduces body lean in corners, enhances stability on rough roads, and reduces nose-dive under hard braking. Autoride is optional on Yukon XL, standard on Denali.
The rack-and-pinion steering on the 1500 models feels fairly direct, though as in other big SUVs it is a bit slow. The 2500 steers like a new pickup, a bit heavier but confidence-inspiring. Like all large SUVs, the Yukon XL is prone to body lean in turns and doesn't respond well to quick changes of direction. It's a full-size truck (plus or minus three tons, higher center of gravity) and needs to be driven accordingly and with respect for others, not like it's a sports car.
Hard crosswinds tend to blow big SUVs around and the Yukon XL is no exception. Driving in a 25-mph crosswind on the freeway at 75 miles per hour, our Yukon XL swayed considerably because of its billboard-like profile. Tire choice affects this behavior. Autoride helps reduce the effect of crosswinds. And 2500 models better withstand crosswinds.
The brakes are all vented discs with ABS. An integrated trailer brake controller that gives excellent control and eliminates any installation hassles is available, and we view it as a must-have option. After all, if you're not towing anything you probably don't need a Yukon XL.