2013 GMC Yukon Introduction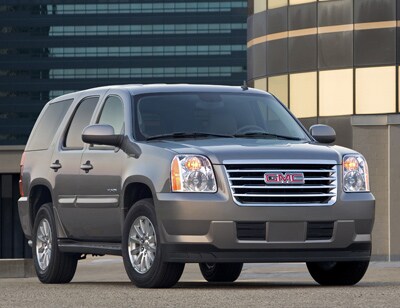 The GMC Yukon is a full-size SUV with power, space, and towing capacity. It can haul loads of gear, it can survive repeated pounding over rugged terrain, it can pull trailers, all while transporting four or five adults in comfort.
And it's that towing capacity and 4WD that makes it a sensible choice. Yukon's maximum tow rating ranges from 8100-8500 pounds, or to about 6000 pounds on Hybrid models. Most Yukons can carry 1400-1700 pounds of passengers and cargo, which must be subtracted from allowable trailer weight. The standard-size Yukon can carry more weight than the equivalent-trim, longer Yukon XL due to the XL's greater weight, but the XL offers a heavy-duty (2500) version the Yukon does not.
Inside, the Yukon features a simple, elegant dash that hints at aspirations for entry-luxury status. The Yukon has three-row seating standard and can be configured for two to nine occupants. Seating in the first and second rows has plenty of room, but the third row is best left for kids and has to be removed for maximum cargo space.
Engine choices are all V8s. The 320-hp 5.3-liter V8 and Denali's 403-hp 6.2-liter V8 both have a system that shuts down half the cylinders under light loads to improve fuel economy. For better economy in daily driving, look to the Hybrid models which pair a 6-liter gasoline V8 that switches off completely when not needed, and battery pack with dual electric motors inside the transmission to increase rated urban fuel economy by about 33 percent.
Ride and handling characteristics are typical of large SUVs. The Yukon leans in turns and is not agile. The ride quality, on the other hand, is commendable, even with the Denali's available 20-inch polished wheels that add a touch of fashion trendiness.
Two four-wheel-drive systems are available. All-wheel-drive models use Autotrac, a system that can be engaged on dry pavement but does not repeal the laws of physics as some owners believe. Four-wheel drive with low-range gearing is available for rugged terrain, boat ramps, severe traction conditions.
The Yukon is a good choice for those who need four-wheel drive, cargo space and towing capacity. Those who don't tow might be better served by a larger crossover, such as the GMC Acadia, which has more third-row room and gets 1 mpg better but has no low-range 4WD and tows 3000 pounds less.
The current-generation GMC Yukon dates from the 2007 model year, but the model line has been refined and expanded significantly since then. The 2013 Yukons add two paint hues and grade braking without engaging tow/haul mode.
Yukon shares the same basic full-size truck platform used for the Yukon XL, Chevy Tahoe and Suburban and Cadillac Escalade. Yukon is in the same class as the Ford Expedition, Infiniti QX56, Lexus LX570, Lincoln Navigator, Nissan Armada, and Toyota Sequoia.