2013 Honda Accord Driving Impressions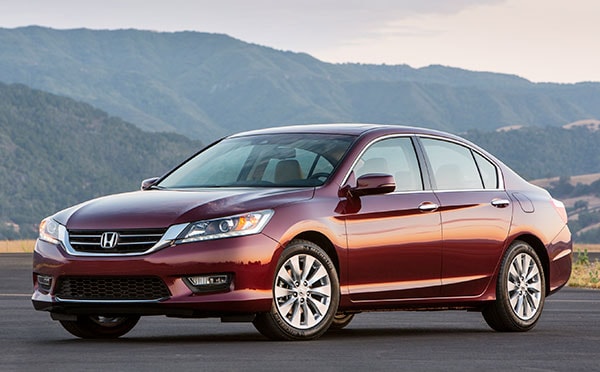 All Accords deliver a comfortable ride and a reassuring confidence they can handle any situation. The one to four-mpg bump in fuel economy ratings comes with no loss in performance and they are nicer to drive than the last two generations of Accord. The first sense that proves different on a 2013 from a 2012 is control effort; the steering and pedals take less effort and the cabin controls are much simpler to decipher.
The new four-cylinder engine is the same as the old one in size only. It has direct injection now but without the ticking idle noise many such engines make, and it idles smoother than many big fours. It doesn't encourage winding it to redline as the predecessor did, and you don't need to.
At 185 horsepower, the 2.4-liter four-cylinder has 8 more horsepower than the old LX and 7 less than any of the others, but it makes the power 600 rpm lower in the rev band. More important, torque is up by 20 lb-ft, again lower in the rev band, giving the car more usable power. The Sport model gets 4 hp and 1 lb-ft more torque because of dual tailpipes; you'll hear more difference than you feel. The Sport also adds shift paddles to the steering wheel, like some Coupes, on the CVT version.
Fuel economy ratings: The 2013 Honda Accord 2.4-liter CVT is EPA-rated at 27/36 mpg or 24/34 mpg City/Highway with the 6-speed manual transmission.
Adding an extra gear to the manual transmission and keeping the base model lighter than last year improves acceleration and fuel economy. The shifter and clutch action have Honda's characteristic light, crisp action. Since the mpg is up, a smaller fuel tank saves weight while maintaining cruising range; a theoretical 600-plus miles on the highway.
The CVT that replaces last year's 5-speed automatic provides shorter gearing for acceleration and taller gearing for highway cruising. By using only what engine power is needed to move the car and not climb through gears, the CVT improves the EPA City mileage rating by 4 mpg and makes less noise. If you use the shifter's S position rather than D it revs higher sooner for better motivation, and slows better on long grades or braking for a corner. As there are no separate gears, there are no 1, 2, or OD-off settings.
The V6 engine isn't changed quite as much and power is similar to that of the 2012 version. However, switching to a 6-speed automatic nets the same performance and economy benefits, and the new V6 gets the same 34-mpg highway EPA Highway rating as the 2012 four-cylinder sedan. Fuel economy for the 2013 Accord 3.5-liter V6 is an EPA-estimated 21/34 mpg with 6-speed automatic or 18/28 mpg with 6-speed manual. Regular gasoline is recommended for all models. The Accord V6 Combined city/highway fuel economy rating of 25 mpg matches or betters V6 competitors.
The 6-speed automatic has only Drive and Sport positions for forward motion. Drive works as normal; Sport upshifts later and downshifts for grades or braking, but it takes a while to learn exactly when it will downshift without surprising you.
A V6 6-speed manual is offered only on the Coupe, and mileage doesn't match the sedan because that engine does not use Variable Cylinder Management. VCM switches off the front half of the V6 engine when little power is needed, the V6 sedan often cruising level ground with economy like a 1.75-liter three-cylinder but without the vibration or roughness.
For its sleeker profile the Coupe gives up rear seat room, access, and the trunk is about the same size that of the 2012 Accord sedan. Manual-gearbox V6s are a favorite of Accord speed-freaks but their rarity caused the last generation to occasionally garner a premium price at dealers who had them.
Meanwhile, active noise cancellation works like your noise canceling headphones to minimize annoying mechanical racket and it is standard on all Accords. Also contributing to reduced noise and vibration is electric-assist steering. This has light effort but doesn't feel artificially light nor elastic or floaty as some on long sweeping bends. Response to the helm is quick, and it's not rubbery just off center when you begin to turn or make minor corrections.
The Accord Sport model features firmer shock, spring and antiroll bar rates but these are subtle changes and not big whacks. Steering effort is higher than with the other models, a combination of the fatter 235/45R18 tires and tuning of the power assist, and it needs another 1.5 feet of space for a U-turn. There's no detriment in ride comfort. We're not sure we would opt for the Sport, though we admit the other Honda in our garage would be an S2000 sports car rather than a Pilot or Odyssey. In fact, while the V6 manual coupe is clearly the fastest Accord, an Accord Sport sedan's lighter front end and slightly better balance might be our choice for a 70-mph world.
In back-to-back drives in Accord, Camry, Sonata and Altima four-cylinder models, the Accord felt the most refined. It didn't feel as light and lively as the Altima but rode better, especially on rough roads. A Camry V6 felt just as quick as an EX-L V6 but didn't have some of the Honda's feature set.
Brief drives in the PHEV plug-in Hybrid delivered 105 mpg (according to the trip computer) over an 11-mile loop, with no attempt at hyper-miling and got going effortlessly. The PHEV will operate as a pure electric, as a gas-electric hybrid, or with the gas engine connected directly to the drive wheels. Honda's early estimate put electric-only range at 10-15 miles, with another 8 miles available after 30 minutes on a 240-volt charger. The transitions between alternate propulsion modes were quite smooth, especially given the car is still in development, and brake feel allows smooth stops.
Outward visibility is very good. Slim pillars at the windshield and between the doors block little of the view; they do not hide an entire car adjacent or oncoming like some GM sedans. The articulated rearview mirror mount and tall windshield means no ducking to see overhead lights or working around the mirror for uphill right turns like interstate on-ramps. Only Subaru and VW come to mind as equally easy to see out of. On higher-trim Accords the rearview camera becomes multi-angle and all left-side mirrors have a wide-angle element.
The LaneWatch feature shows a camera image of the lanes to the right in the center dash. It can be set to on, off, or on with the right signal. With the signal is most sensible (if you use them) but note if the control beep is enabled it beeps each time the signal/image goes on and off, and sitting at a traffic light with the signal on ties the screen up at a good time to be fiddling with things while you're not moving.
Road noise is well controlled, and we tried both 17- and 18-inch wheels on some poor road surfaces. Engine noise is muted until you go to maximum acceleration, wherein a pleasing mechanical growl enters the cabin. We did notice wind noise at highway speeds, primarily around the pillar between front and rear doors.