2013 Honda Accord Introduction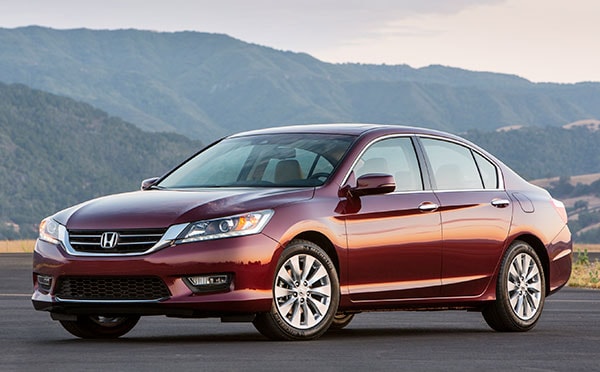 The 2013 Accord represents the ninth generation of the nameplate. The 2013 Honda Accord has a new platform, engine, transmissions, suspension, bodywork, interior, electronics and safety equipment. It is appropriate it to call it a new car.
Reversing a common trend, the 2013 Honda Accord is smaller on the outside and, by total volume, smaller on the inside. However, dimensionally the cabin is bigger in every measure except front-seat hiproom. More important, it feels just as roomy as last year's model, and the trunk is significantly larger than before.
The 2013 Accord is offered in four-door sedan and two-door coupe versions. New iterations for 2013 include a Sport version of the four-cylinder sedan. (A plug-in hybrid PHEV is expected in early 2013 as a 2014 model.) For 2013, there are six trim levels for sedans and four for the coupe. Both coupe and sedan offer a choice of two engines and three transmissions.
A new four-cylinder engine has more usable power and is paired with a continuously variable automatic transmission or a 6-speed manual transmission. Fuel economy ratings are very competitive. The V6 engine is mildly revised from 2012 and available with a new 6-speed automatic or, on Coupe only, a 6-speed manual. The 2013 Accord V6 sedan EPA 34 mpg Highway rating matches that of the 2012 Accord four-cylinder, an impressive achievement.
The new 2013 Accord interior is as functional as before but more user friendly, especially on top-line models. It has room for four adults, five in a pinch, a new suite of telematics and electronic applications, and a longer slate of standard equipment. We find the cabin more visually appealing than before and can't imagine anything a mid-size sedan buyer needs that the 2013 Accord doesn't offer at some level.
On the road the 2013 Accord is quiet and controlled, a blend of isolation from annoyances that some drivers prefer with road manners other drivers prefer. It isn't about being the fastest in a straight line or flattest around the corners but rather being well-rounded and doing everything better than average.
We find the new wrapper far more attractive than the last one. It's neither as dramatic as some nor as bland as others, Honda preferring proven middle ground to extreme. The 2013 Accord has advanced in crash safety and, given the performance of the sister-car Acura TL, is expected to get top safety scores.
This ninth-generation Accord will not dominate the market it and the Camry battled over for decades because there are now many more viable competitors. Accord offers a coupe that Camry no longer does. The Ford Fusion may take the design mantle away from the Hyundai Sonata and Kia Optima, but Hyundai has a Genesis Coupe to compete with Accord. The Nissan Altima lineup includes a coupe, and the Altima sedan is new for 2013 and touts excellent EPA ratings, as does the roomy Volkswagen Passat TDI introduced for 2012. The Chevrolet Malibu is new for 2013, and a new Mazda 6 is expected for 2013. Drivers who want more space, performance or features might also look to a Nissan Maxima or Toyota Avalon. The choices in the family sedan segment are bigger and broader than ever and car buyers are the winners.