2013 Honda Accord Summary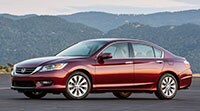 What we like about the 2013 Accord is the subtle execution. It doesn't reset the bar with edgy styling at the cost of rear-seat room. Fuel economy was a priority yet performance is more than adequate and better than that of the previous versions. The new Accord takes up less space outside but has a more comfortable cabin and larger trunk. There are more options in entertainment and telematics and the man-machine interface is much easier to use. Tradeoffs and compromises are hard to find where they exist at all, so the Accord will remain a favorite in family sedans.
G.R. Whale filed this report after his test drive of the Accord models in Southern California.